From the recent popularity of TV series Bloodlands staring James Nesbitt, filmed on Strangford Lough, to shows set by our iconic landmarks, such as crime drama Hope Street showcasing Donaghadee Lighthouse and the beauty of this seaside town to our screens in the fictional town of Port Devine, to The School of Good and Evil, featuring the stately home and magnificent gardens of National Trust's Mount Stewart. We are delighted our views are being shared with audiences far and wide.
So, whether you are a film buff, a TV addict or have a keen interest in the area, this handy guide will help you plan a trip to explore some of the top filming locations, and enjoy this stunning place for yourself.
Well known productions – shining a light on our hidden gems
These popular titles have been significant in showcasing the area, getting much recognition and critical acclaim. However, you may not know is exactly where they were filmed. Read on to find out more …
The Woman in the Wall (2023)
Gothic thriller The Woman in the Wall is a sensitively crafted, fictional drama series which examines the legacy of one of Ireland's most shocking scandals – the inhumane institutions known as The Magdalene Laundries. The six-part series was made on location in Northern Ireland and is produced by Motive Pictures with funding from Northern Ireland Screen.
Did you know? Portaferry town has a Ferry (Portaferry-Strangford Ferry) that operates daily between the villages of Portaferry and Strangford. The Anglo Norman Savage family, established the original ferry in 1188, making it the longest existing ferry service in the world. The powerful current which rushes through The Narrows carries 400 million gallons of water with every tide. It is little wonder the Vikings named the Lough the 'Strong Fiord'.
Film location include: Scenes were filmed in Portaferry.
Where to watch: The Woman in the Wall was first screened on Sunday 27th August at 9pm on BBC One. You can watch on BBC iPlayer.
Bloodlands (2021)
Bloodlands first aired on screens on 21 February 2021. A crime drama which covered an extensive area filming captured the beauty of Strangford Lough and surrounding region with key scenes being filmed on Green Island.
As a body is found, DCI Tom Brannick and his team begin to uncover a series of secrets and covered up history, season two has just recently been released continuing from where season one left off. A dark story set in a beautiful dramatic location.
Did you know? Strangford Lough is the UK's largest sea lough, and one of only three Marine Nature Reserves in the UK (designated an Area of Outstanding Natural Beauty and an Area of Special Scientific Interest).
Other film locations include: scenes were filmed at Ringhaddy Cruising Club and Castle and on farms near to the vibrant town of Comber.
Where to watch: Bloodlands is available to watch on BBC iPlayer.
Derry Girls S2 (2019)
Hugely popular teen sitcom Derry Girls explores life growing up in the City of Derry / Londonderry, Northern Ireland in the 1990's through the perspective of five teenagers' eyes in a comedic way. The four girls and the 'Wee English Fella' find themselves getting into more and more mischief as they grow closer in their friendship. The show demonstrates what life was like growing up in the city in the 1990's. In season two, Erin and the girls travel to the Ulster Folk Museum & Ulster Transport Museum, and as per usual they get up to no good and hilarious antics.
Did you know? The Ulster Folk Museum allows visitor to explore thatched cottages, farms, schools, and shops experiencing life from over 100 years ago. The Ulster Transport Museum brings technology, design, and innovation from the last century to life and allows visitors to explore how each of these developed along the years. While you are here, do not miss the special exhibition featuring a very famous car which was manufactured right here in Northern Ireland. A treat for any 80s film buff, the DeLorean is on display in its full glory with lighting effects which bring back all those memories of this iconic vehicle from the Back To The Future hit series of movies.
Derry girls ran for 3 series with a poignant finale which first aired on 18 May 2022.
Where to watch: Derry Girls is available on Netflix.
Line of Duty S6 (2021)
Line of Duty is a British Police TV series, in which AC-12, a special internal investigation team headed up by Ted Hastings (played by Northern Irish actor Adrian Dunbar) realises the nature of corruption that is embedded deep within the roots of the organisation. In season six, scenes were filmed in the vibrant shopping town of Newtownards and the City of Bangor by the sea.
Did you know? Adrian Dunbar took great delight in including a few Northern Irish phrases as often as he could when playing the lead part of Ted Hastings. He called colleagues 'wee fella' and used the popular phrase 'Now we're sucking diesel' anywhere he could shoehorn it in! When you meet our friendly locals, be sure to ask them the meaning of your favourite Ted'isms!
Line of Duty ran for six seasons, with the gripping finale airing on 2 May 2021.
Where to watch: You can watch Line of Duty on Britbox.
Hope Street (2021)
Hope street is a TV series broadcasted on the BBC. With the arrival of CD Leila Hussain, she is a 'big city' girl looking to make her mark on the sleepy Northern Irish seaside town. Filming of this TV series takes place in multiple locations including; Groomsport, Mid Island Grey Abbey, Christ Church Carrowdore, Millisle, Helen's Bay, Ballyhalbert, Grey Abbey, Ballywalter Beach. The fictional town of Port Devine is in fact picturesque Donaghadee. The town boasts a hub of fantastic seaside restaurants and traditional pubs serving fabulous steak and seafood as specialities. This is a must stop off when you visit!
Did you know? Did you know Donaghadee is home to a stunning Lighthouse from where you can enjoy spectacular views across the Irish Sea. On a clear day you can see all the way to Scotland, only 20 miles away by the sea.
Where to watch: There are 2 seasons of Hope Street on BBC iPlayer.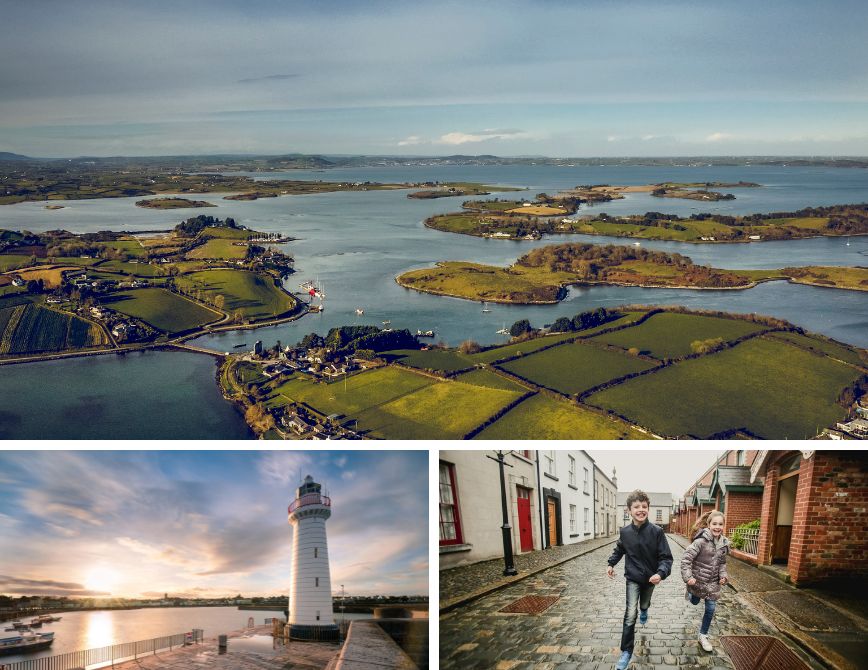 Recently released 2021-2022
Here are some more titles filmed here. Do not miss these popular hits and discover more about the fascinating heritage and beauty of this region…
The School for Good & Evil (2022)
Best friends Sophie and Agatha find themselves on opposing sides of an epic battle when they are swept away into an enchanted school where aspiring heroes and villains are trained to protect the balance between Good and Evil.
Film locations include: Mount Stewart, The Ulster Folk Museum and Clandeboye Estate.
Did you know? Mount Stewart Gardens are home to Red Squirrel sanctuary, and in some scenes this Red Squirrels can apparently been seen as extras in the back.
Where to watch: The School for Good & Evil released October 19, 2022. and is available to watch on Netflix.
Ballywalter (2022)
Ballywalter is a bittersweet comedy movie which tells the story of a budding stand-up comedian Shane (Played by well-known Northern Irish comic and TV personality Patrick Kielty) and a sharp 20-something taxi driver Eileen (2017 Screen Star of Tomorrow, Seána Kerslake) who strike up a friendship. Kielty has acted on stage before, but this is his first feature-film role.
Did you know? As the film title suggests, the movie is set and primarily filmed in the seaside village of Ballywalter. This hidden gem of a location was founded in the early 1600s when it was part of James Hamilton's lands during the Ulster Scots settlement and is home to one of the country's most stunning unspoilt beaches.
Ballywalter had its World première at the 22nd Belfast Film Festival (BFF), on 3 – 12 November 2022.
Ballywalter will be in cinemas from Friday 22nd September 2023.
Dalgliesh (2021)
Based on the novels by PD James, Dalgliesh is a TV series following the career of enigmatic detective Adam Dalgliesh, a specialist in unusual murders who works to solve a series of intricate and mysterious crimes in 1970s England.
Film locations include: The Ulster Folk Museum and Grey Abbey.
Did you know? Grey Abbey is the best example of Anglo-Norman Cistercian architechure in Ulster and was the daughter house of Holm Cultram (Cumbria). It was founded in 1193 by Afferca, wife of John de Courcy, the Anglo-Norman invader of East Ulster. Poor and decayed in the late Middle Ages, the abbey was dissolved in 1541 but in the early 17th century was granted to Sir Hugh Montgomery and the nave was refurbished for parish worship until the late 18th century. The remains, in the beautiful parkland setting of the nearby grand house of Rosemount, consist of the church with cloister and surrounding buildings to the south.
Where to watch- Dalgliesh released 1 November 2021 and is available to watch on Acorn TV today.
Dungeons & Dragons: Honor Amongst Thieves (2023)
A movie based around a charming thief and his band of adventurers embark on a quest to retrieve a lost relic, but things go dangerously awry when they run into the wrong people. This blockbuster was filmed in the historic Clandeboye Estate and the movie is set to release April 7th, 2023.
Did you know? Clandeboye Estate was first settled in 1674 and covers 2,000 acres of land including woodlands, formal and walled gardens, a lake, and farmland.
Tom Jones (2022)
This TV series is based around the famous singer Tom Jones as a young man growing up and finding his place in the world. It depicts the singer's struggle in all aspects of his life as he became one of the most well-known signers and celebrities to date.
Film locations include: Ballywalter House Newtownards, and St Andrew's Church, Kircubben.
You can watch Tom Jones on both Paramount+ and Amazon Prime today.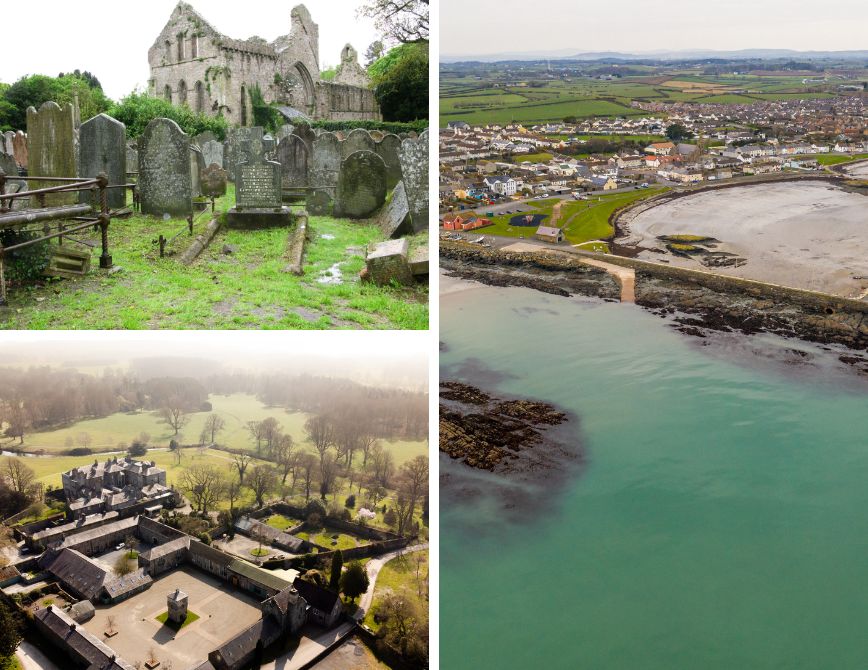 That's not all folks!
Here is another list of movies and TV shows that have featured various areas from around the borough…
Death & Nightingales (2021)
Death & Nightingales is a TV show set in the 'Beautiful but haunting' countryside of Fermanagh in the North of Ireland set in 1885. This is a riveting story capturing love, betrayal, deception, and revenge between three main characters (Beth, Billy and Liam).
Death & Nightingales is filmed in: Newtownards and Grey Abbey.
Doing Money (2018)
Doing Money is a British based crime drama which focuses on the different subject areas circulating around modern slavery in the sex trade. Film locations include: Ballyholme Post Office and Groomsport Holiday Cottages, and Greengraves Road in Newtownards.
Dublin Murders (2019)
Dublin Murders is a dark, psychological mystery which focuses on a murder investigation led by two ambition and charismatic detectives, Rob Reilly and Cassie Maddox.
Film locations include: Ards Community Hospital Church, Seacliff Road in Bangor, Portaferry, Grey Abbey House, and Bangor Grammar School.
Marcella S3 (2020)
Marcella is a British detective series. The series stars Anna Friel as Marcella Backland. A former London Detective returns to work to investigate an open case from 11 years ago which involves a serial killer which appears to have become active again.
Filmed in Helen's Bay a picturesque coastal area near to the city of Bangor and Ballybarne's Road Newtownards.
Agatha & The Truth of Murders (2018)
Agatha & The Truth of Murders is a British History Drama film about Agatha Christie becoming embroiled in a real-life murder case during her 11-day disappearance in 1926.
Film locations include: Grey Abbey, The Ulster Folk Museum & The Ulster Transport Museum and The Royal Belfast Golf Course.
Pixie (2020)
In a mission to avenge her mother's death, Pixie (Olivia Cooke) plans a mastermind heist but in the process finds herself fleeing across the wildlands of Ireland from Irish gangsters after her grand mastermind plan goes wrong, requiring her to take on the patriarchy and choose her own destiny.
Film locations include: Newtownards Ards Airport and Portavogie's Princess Anne Road.
Here Before (2021)
After new neighbours move in next door, a bereaved mother (Andrea Riseborough) begins to question her own reality in this taut psychological thriller set in Northern Ireland.
Film locations include: Bangor's Seacliff Road and Bryce Park, North Down Coastal Path, Marine Gardens, and Regency Gift Shop on Key Street all in the city of Bangor.
The Northman (2022)
The Viking Age. With a mind aflame with hate and revenge, Prince Amleth, the wronged son of King Aurvandill War-Raven, heads to cold, windswept Iceland to retrieve what was stolen from him: a father, a mother, and a kingdom. Now, in the name of Valhalla, no one can stop the Northman, not even God.
Film takes place in Clandeboye Estate Private. Open by appointment only for group tours.
Almost Never S3 (2021)
Almost Never is a CBBC Comedy-drama following the ups and downs of boy band The Wonderland as they seek fame and fortune while trying to juggle friends, family, school and even relationships. A segment of the series location takes place in the well-known Crawfordsburn Scout Centre located in the stunning setting of Crawfordsburn Country Park on the North Down Coastal Path.
Conversations with Friends (2022)
Two Dublin college students, (Frances and Bobbi) are noticed by Melissa an essayist and photographer, Melissa invites them home where they meet her husband Nick. Their four lives become increasingly entangled as Frances begins an affair with Nick, Bobbi and Melissa grow closer and closer. Conversations with Friends also filmed in the vibrant town of Newtownards.
The Windermere Children (2020)
This is the stark, moving, and ultimately redemptive story of the bonds these children make with one another, and of how the friendships forged at Windermere become a lifeline to a fruitful future. The Windermere Children films in at White Church Road, in the picturesque coastal village of Millisle.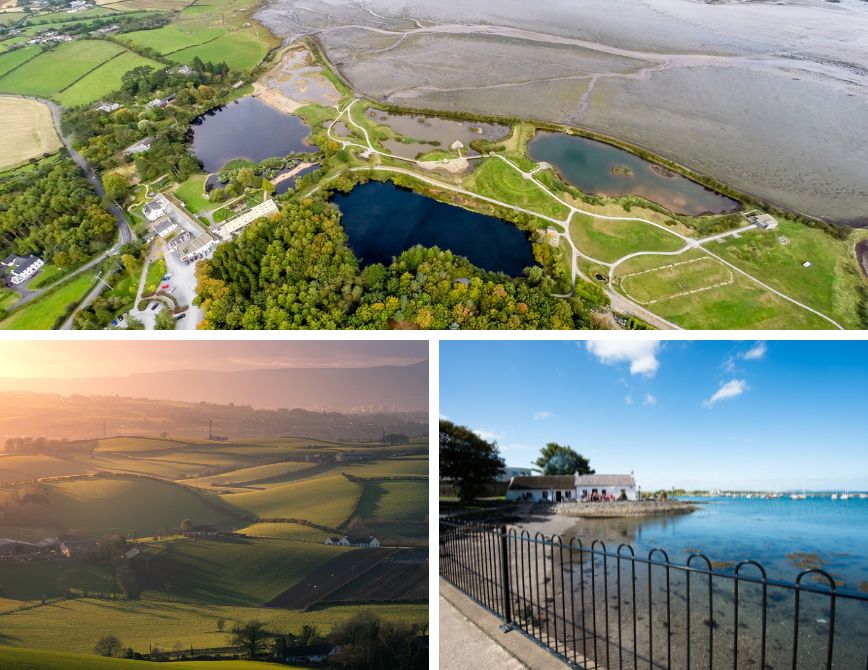 More things to do
These are just a few ideas for days out in Ards and North Down. Check out our Things to do section and further Blog articles for even more inspiration.
Keep up to date
Sign up to our ezine to hear about short breaks ideas, unique experiences, events and seasonal special offers - Visit Ards and North Down ezine sign up.
Discover the beauty of Ards and North Down – a place of inspiration for TV and film. For more inspiration, check out our Things to do section and accommodation section to plan your trip today.
We look forward to welcoming you!