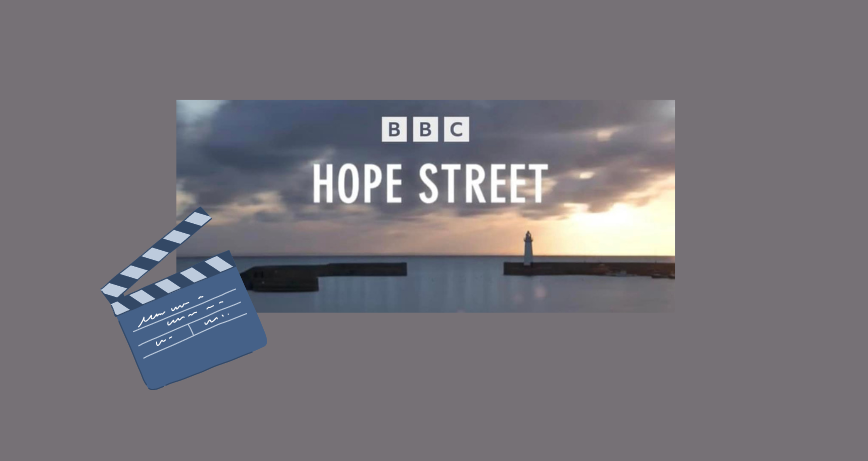 BBC TV series 'Hope Street' first hit our screens in late 2021, and is filmed entirely in the 'Beacon on the Coast', Donaghadee, or 'The Dee' as it is known to locals! As the show returns to screens for a second series, fans of the hit police drama are flocking to the thriving town to see it's seaside beauty.
Donaghadee is situated in Ards and North Down (just 16 miles from Belfast City) and is a gateway to the stunning Ards Peninsula. It's idyllic location just past the mouth of Belfast Lough to the Irish Sea, where on a clear day you can spot the edge of Scotland. When you visit, it will always be in your heart.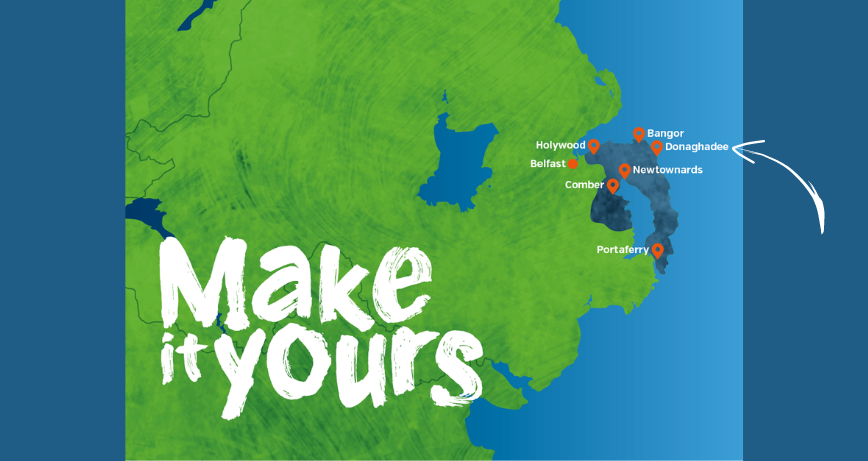 A coastal gem, Donaghadee is known for the landmark lighthouse, pastel colour lined shore front, fantastic restaurants and eateries, and Copeland Distillery. Fans of the show will recognise the local landmarks featured when the town transforms into Port Devine.
Local charm and a warm welcome
Donaghadee, though in disguise on the popular tv series, the town shines brightly as a charming place where the welcome is warm and embracing.
Take a stroll through the town and around the seafront you will instantly recognise key film locations from the series, from the Police Station to the Harbour and Lighthouse and Port Devine's The Commodore pub. Go a little further round the corner, taking in the rugged coastline and venture to The Commons where you can relax and enjoy the sea air.
Be greeted like a friend by the people who are the real life faces of those who work and live in Donaghadee, keen to share stories and legends of the 'Dee of years gone by.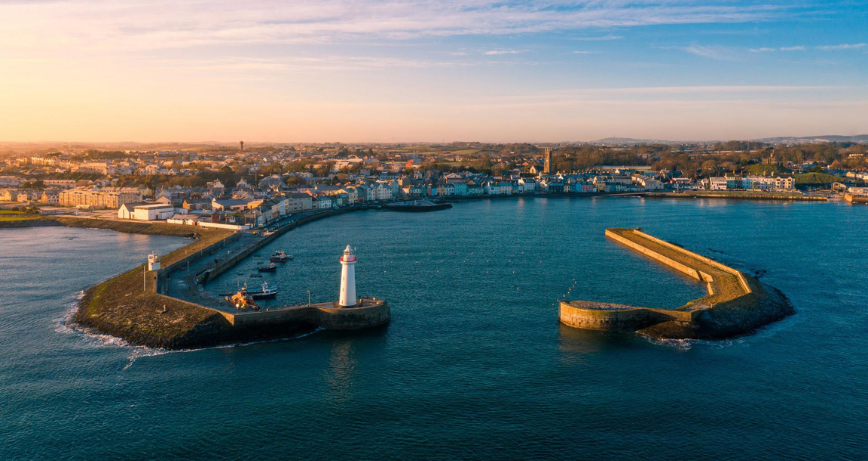 In an interview with the Belfast Telegraph in November 2021, the Belfast-born co-creator and exective producer of the BBC police drama, Paul Marquees, has said his "aim was to produce a long-running, local drama that avoided Northern Irish stereotypical topics but captured people's humour and warmth instead."
Marquess, who also worked on The Bill and London Kills, said that he and co-creator Susanne Farrell, had a simple ambition, "to produce a long-running, returning drama series set in, and all about, Northern Ireland...". The series can't help but capture the renowned Northern Irish warmth and good humour.
Read the full Belfast Telegraph article entitled 'Hope Street: High hopes for new BBC NI police drama ahead of its launch'.
Foodie Haven
Well known for a range of delicious eateries, traditional shops where award-winning local artisan Donaghadee food and drink are championed, the town is a culinary delight. A great way to see what puts the delicious in Donaghadee, hear some craic from the locals, and learn about the fascinating stories behind some of the fantastic artisan food producers in the area is by booking a food tour. Hit the Road Walking Tours offer up a delectable experience, 'Taste of Donaghadee', featuring eight popular eateries unique to this picturesque family seaside spot on our coast.

More about Donaghadee
If you are visiting this gorgeous place, here are just some suggestions of some beautiful Donaghadee attractions to visit in and around the bustling town...
Visit Pier 36, also known as The Commodore pub, a well established family run restaurant right on the harbour front. Enjoy a 'wee dram' at the bar or tuck into a bowl or delicious seafood brought in on the freshest local cathces.
Just a short walk brings you to Donaghadee's Copeland Distillery, (one of two in the borough) to enjoy a fascinating tour and hear the story of how they create award-winning local gins, rums, and whiskies.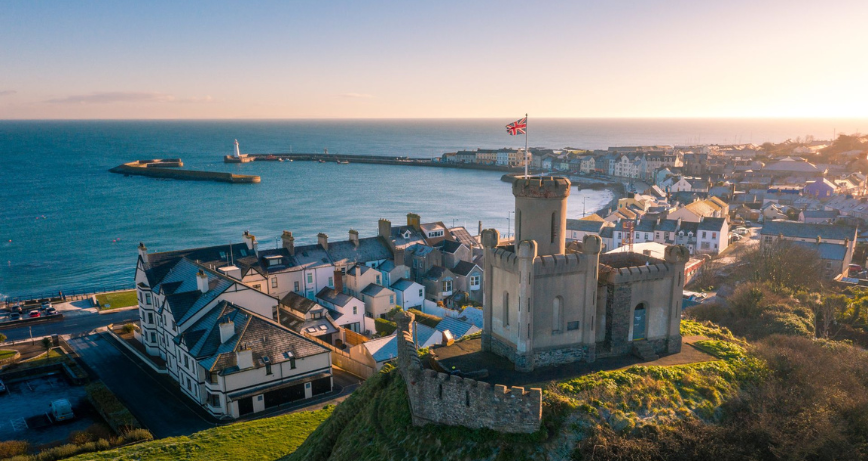 At the other end of the town, don't miss the chance to visit *Donaghadee Motte and Camera Obscura, known locally as 'The Moat'. Dating back to the 12th century, this mini castle so to speak was created to be a Gunpowder store and over the years became a viewing spot for visitors from which to survey the town and its surrounding coastline. Fast forward to now, in 2022, the Moat was restored and became home to the only accessible Camera Obscura on the island of Ireland, (*open seasonally, see website).
The Beacon on the Coast
The iconic symbol of Donaghadee, and indeed Port Devine, is the harbour and lighthouse, a place of long seagoing history. Lined with restaurants, pubs, accommodations and resident homes, it lies at the centre of Donaghadee's heart.
Located just a short stroll away from the harbour area is the shared space The Commons. Overlooking the Irish Sea waters, this greenspace is an attraction for dog walkers and families at play.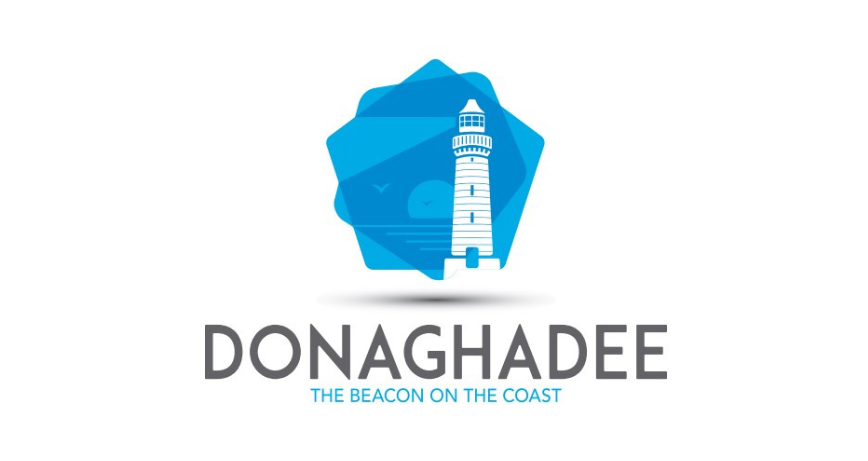 Donaghadee History & Culture
Donaghadee is rich in Ulster-Scots heritage. Find out more about our ancestral roots and this huge part of the town's history.

Explore a bit further afield …
Ards Peninsula
Discover the Ards Peninsula Way with its unspoilt villages, tranquil abbey, castles and welcoming locals, all with a story to share. Located on the east coastline of Northern Ireland, only half an hour from Belfast, and 15 minutes from the City of Bangor, the area is surrounded by the sparkling waters of the Irish Sea and Strangford Lough, boasting miles of coastline.
Our townlands
Donaghadee is one of four main towns in the borough including Newtownards, Comber and Holywood, each one unique in what they offer the visitor. Here is just a little insight as to why...
Comber | Driving distance: 12 miles/19.3 km from Donaghadee, 30 mins. approx. drive time.
'The home of great taste', Comber is renowned for coffee, cycling, craft and fine cuisine, AND for its famous PGI status Comber Early potatoes! The town has links to the Titanic and Rollo Gillespie, a locally born war hero. The monthly Comber Farmers' Market is a big draw to those from far and wide looking for authentic, home-grown goods and artisan products. Venture just a little out from the centre and you will find WWT Castle Espie Wetland Centre, a great family attraction overlooking the stunning shores of Strangford Lough.
Newtownards | Driving distance: 8 miles/12.8 km from Donaghadee, 25 mins approx. drive time.
Visit this bustling town for great shopping, it's weekly Saturday Market and regular Arts and Culture events that take place in Ards Arts Centre. Scrabo Tower reigns over the town and its surrounding landscapes, where it can be seen for miles.
Find out more about Newtownards
Holywood | Driving distance: 14 miles/22.5 km from Donaghadee, 35 mins. approx. drive time.
Gateway to Ards and North Down, Holywood is just minutes away from George Best Belfast City Airport. The May Pole, the only one on the Isle, the Motte and Holywood Priory form pieces to what makes this town the 'historical gem of Belfast Lough'. Together with cosy coffee shops, fabulous restaurants and boutique clothing stores, world class golf courses and it's seaside setting, it's the full package. In the summer of 2022, Seapark in Holywood was listed amongst NI's most 'Instagrammed' Beaches, find out more.
City of Bangor - Northern Ireland's Newest City
Driving distance: 6 miles / 9.6 km from Donaghadee, 15 mins. approx. drive time.
Bangor, which conferred official City status in December 2022, has attracted visitors to its seaside setting for decades. Handy from Belfast, with excellent transport facilities into the city centre, attractions such as Pickie Funpark, North Down Museum, Bangor marina and seafront, on the water activities, eateries and a variety of accommodation has made it a place where generations return to time after time, reliving fond memories of childhood holidays. Further out from the city centre, you will find even more to do at places such as Eddie Irvine Sports. During the year it is a setting for world class boating events, annual family fun events like Sea Bangor, as well as and music and cultural events including the popular Open House Festival programme.

Where to watch 'Hope Street'
'Hope Street' first hit our screens in 2021, and BBC One is currently showing series 2 (January 2023).
Watch Hope Street on BBC iPlayer.
More film locations in Ards and North Down
From series productions like 'Hope Street', 'Bloodlands' and 'Derry Girls', to international movies like 'The School for Good and Evil' and 'The Northman', Ards and North Down is adding more and more to its repertoire of film locations. Read more.
Keep up to date
Sign up to our e-zine to hear about short breaks ideas, unique experiences, events and seasonal special offers.
Discover more...
of the beauty of Ards and North Down – a place of inspiration for TV and film. Check out our Things to do section and accommodation section to plan your trip today.