There are countless things to do in Ards and North Down, in every corner, town and village; new things to discover and old things to come back to time and time again because, well, they never become old – the fun and memories they hold are dear, like days spent at Pickie Funpark or riding the Strangford Ferry to Portaferry. And the added bonus is, things don't have to cost a lot to make those days fun and those memories precious.
Find out more about what Ards and North Down has in store for you. Read on for ideas, inspiration, ticketed events, places to go, things to do and free ways to make the most of your time in our place...
Nestled between sea and land, our place provides an abundance of family fun making it the perfect spot to spend a day, or a few days, over the autumn half term break.
The thing about autumn half term is, the colours of the land may change and the air is cooler but all the fun of summer doesn't go away (even the beach days!). The forests invite you in to explore their crunchy paths of freshly fallen leaves in hues of burnt orange and brown, the crashing waves, or 'white horses', of the coast draw you to the seaside. The big thing of course at this time of year is the excitement of being off school and, for many, Hallowe'en.
Hallowe'en and Half Term Events:
Looking for Halloween themed events? Here is how we stack up; these are just some things you could get up to - themed to the season and, or, timed just right for the school holidays…
The Ark Open Farm, Conlig - Pumpkin Patch
15 Oct - 1 Nov
Find out more
Pickie Funpark, Bangor – Pumpkin Patch
21 - 31 Oct
Find out more
Hallowe'en at Exploris Aquarium, Portaferry - Pumpkin Patch and more!
21 - 31 Oct
Find out more
Galaween, Portaferry
21 - 31 October
Find out more
The Mighty Pumpkin Hunt, Newtownards
21 - 31 Oct
Find out more
Hallowe'en Funfair at McKee Clock Arena, Bangor
21 Oct - 6 Nov
The funfair will open at 5pm on Friday 21 October, operating thereafter as follows:
2pm-10pm, week days and 12noon-10pm, weekends
It will close at 10pm on Sunday 6 November.
Donaghadee Family Hallowe'en Tour
25 Oct
Find out more
Newtownards Family Hallowe'en Early Tour
26 Oct
Find out more
Spooky Scavenger Hunt, Distillers' Rest Cafe and Echlinville Pathways, Kircubbin
26 Oct - 6 Nov
Find out more
Website | Facebook
Market Fresh 'Hallowe'en at the Haunted Hub', Bangor
29 Oct
Find out more
Ballycopeland Windmill Hallowe'en Party
29 Oct
Find out more
Hallowe'en at Ulster Folk Museum, Cultra
29 - 31 Oct
Find out more
Happy Hallowe'en at Mount Stewart, Newtownards
29 - 31 Oct
Find out more
Dracula The Panto! at The Portico of Ards, Portaferry
29 Oct
Find out more
FREE children's activities at Cockle Row Cottages, Groomsport
30 Oct
2pm-4pm
Sandart returns;
Create your own spider and mask decorating with Boom Studios;
Mobile Team Adventure will be providing taster sessions on the water;
And, in true Hallowe'en style, there will be a ghost hunt! Can you find them all?
Fancy dress is encouraged!
Plus, courtesy of the Ulster Scots Agency, there will be music with Pipes and Drums, and the NI School of Falconry will be bringing along some special birds; get an up-close view of these beautiful creatures.
The Ulster-Scots Agency and Ards and North Down Borough Council, working in partnership with one another.
Cockle Row Cottages are currently closed, keep an eye on our Facebook page for updates.
Drumawhey Junction Railway, Newtownards
30 Oct
Find out more
Ards Puppet Festival: The Enchanted House of Puppetry, Newtownards
30 and 31 Oct
Find out more
Half Term Fun at Mount Stewart, Newtownards
1 - 6 Nov
Find out more
*Castle Espie, update [10 Oct 2022]: Castle Espie Wetland Centre is closed temporarily in line with UK government requirements - as a precautionary measure to protect the birds in our care and prevent the spread of Avian Influenza. Please check their website for up to date details on this situation.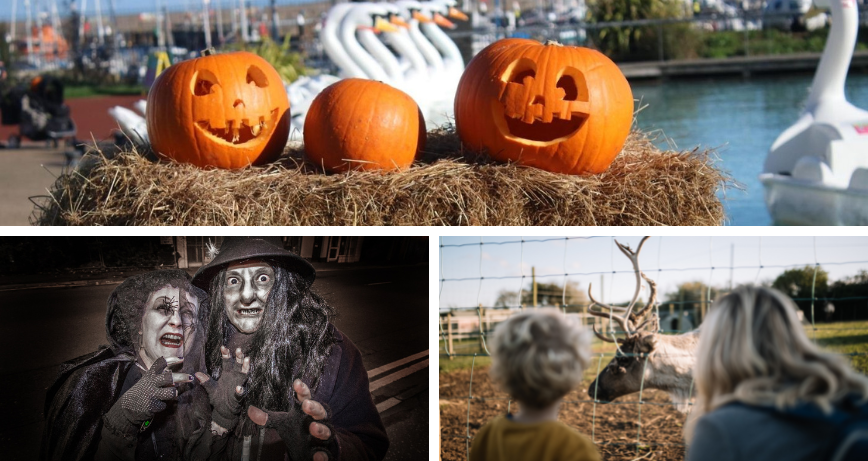 Great days out
Don't worry though if you haven't managed to grab tickets for certain events, there is so much more you could be getting up to…
Have a read at our Blog's - they may be set in summer but summer doesn't have to keep all the fun to itself - with attractions and nature spots open all year round, in all seasons, we truly offer... 'Great Family days out with the kids' no matter the time of year.
And, fun doesn't have to cost a lot. For loads of ideas for FREE things to do in Ards and North Down have a read at this blog... from days out in forest parks, to cycling the greenway; there are trails, opportunities to discover and explore, to connect - both with nature and with eachother.
So layer up, get the welly/walking boots and the woollies on, take a flask of hot chocolate and snacks along for the ride, for a cheap, or a free, day out. Your body, mind and (maybe even your bank balance) will thank you for it!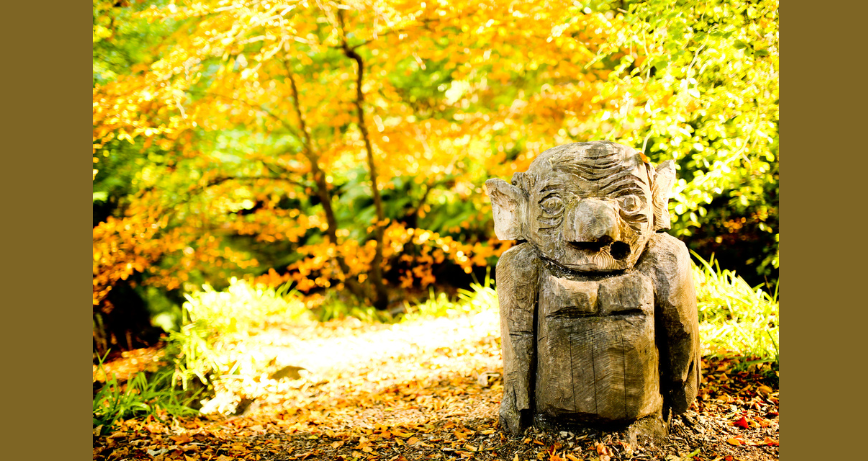 Explore
Go on adventures through the woods, finding mini beasts along the way, taking in the sounds of the forests, or the sea, of the bird life, and the giggles of pure fun as the kids muck about in natures playground.
National Trust's 50 Things to do before you're 11 and 3/4 activity list
Highlight walks
Find more walks in the region.
Spooky happenings
In an online article recently published on northernirelandworld.com, by Conor McAteer, that WWT Castle Espie Wetland Centre, Comber, listed amongst the '10 of the most haunted places in Northern Ireland'?
The article stated that, in 2019, this seemingly innocuous marshland made a list of the UK's most haunted heritage sites that had been compiled by Spectrum Paranormal Investigations. Aside from being the home of Ireland's largest collection of exotic and native water birds, a woman in Victorian dress has been sighted walking through the wetlands holding a baby and a lantern. It has been claimed the woman cries out at night...looking for shelter and warmth.
More information about the centre. Read the article in full here.
Find an offer
Always check our offers section for discounted rates or little extras that can make more of your day trip or staycation.
No matter the season, fun is aplenty! Add those extra layers, dig out the wooly hats, and get out and explore.
Happy autumn half term!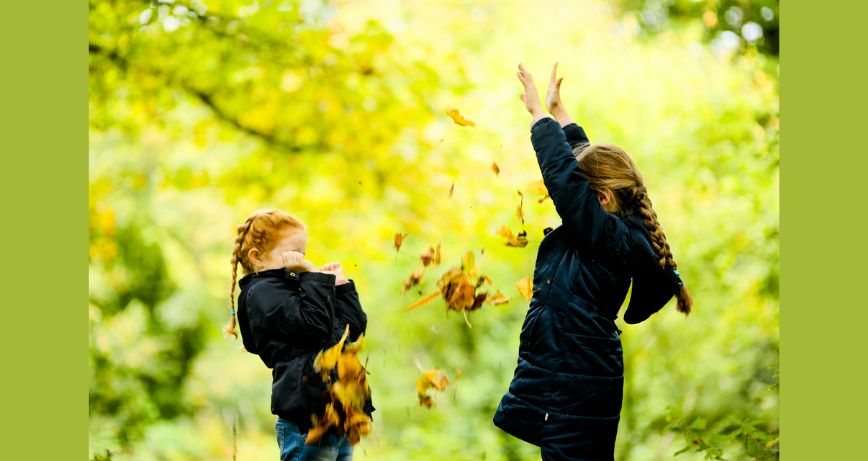 Please note, this listing is meant as a guide only. Information correct at time of publication. Events are subject to change and availability. If you would like to submit information on Halloween events and activities please email marketing@ardsandnorthdown.gov.uk
To avoid disappointment, when planning to visit an attraction in the area please continue to check individual provider websites before you leave the house to confirm if they are open, closed or if pre-booking is required.