Gift your loved ones a piece of Ards and North Down
We pride ourselves on the wealth and array of opportunities to experience something unique in Ards and North Down, or made to be unique by artists, producers and makers who form our extensive entertainment, food and creative offering. We have gathered a few ideas to help you effortlessly tick off that gift list.
A sprinkle of seasonal inspiration...
Give the gift of time to loved ones. An experience makes for a fantastic gift - be it a family trip to the farm, or a creative workshop, a meal out, concert tickets, attraction vouchers... it cuts down on the 'stuff' whilst enabling friends and family to spend quality time together.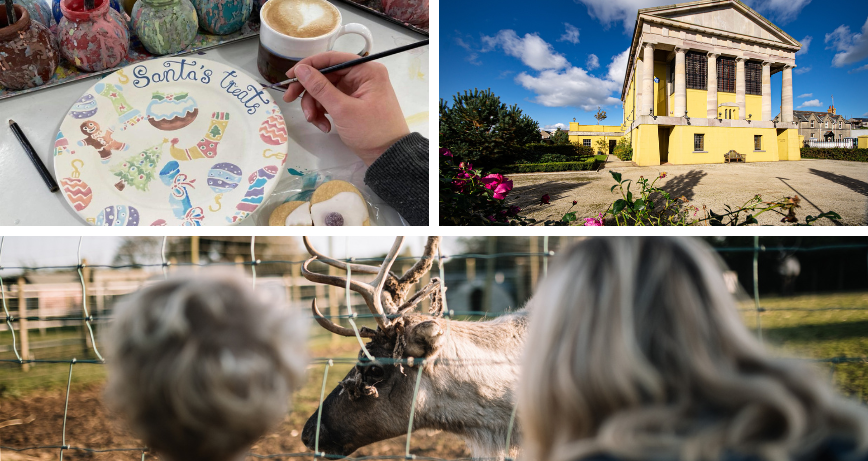 Offers
Take advantage of our offers on local hotels, activities, family fun attractions and gift cards.
Find an offer
Events and experiences
Visit our What's On listings for upcoming events and experiences that would make great gifts, from breadmaking to concerts, find out what's on this season and spoil your loved ones...
Highlights include:
New Years Day Walks, Donaghadee and Newtownards
Start the new year afresh with a chance to learn new things about old places in one our New Years Day walks as part of the Experience Ards and North Down
2022 programme
Donaghadee Walk - Find out more | Newtownards Walk - Find out more
Traditional Breadmaking with Tracey's Farmhouse Kitchen
On the shores of idyllic Ballymorran Bay in Killinchy you will find this little homely gem owned and run by Tracey. She will guide you through the process of making your own breads where afterwards you can enjoy your bakes with tea round the kitchen table. Tracey offers a range of experiences throughout the year too such as Board and Pizza, where you can learn to paddleboard on the bay, refuelling yourself with homemade pizza, afternoon tea experiences and more.
Find out more
Concerts
If music or comedy shows are more your persons thing then you will be spoilt for choice here in Ards and North Down. The Portico of Ards in Portaferry offers up an eclectic programme of comedy, family shows and concerts to name a few.
Find out more
The Court House, run by the crew of Open House Festival, is Bangor's newest entertainment venue, home to live music and the arts.
Find out more
Pickie Funpark's Music on the Marina gives the adults a chance to have this venue to themselves in the setting of the cafe, transformed into a stage and a dance floor of course for those who like to boogie to the fab music of the tribute acts they have lined up.
Find out more
Get creative
Eden Pottery in Millisle has such a range of pottery ready for you to paint - making a personal keepsake gift. Or gift someone a chance to create their own masterpiece!
Find out more
Farm days
The Ark Open Farm in Conlig, between Bangor and Newtownards, makes for a great family day out! Why not consider gifting a voucher to use on a day at the farm.
Find out more
Exploris Aquarium and Seal Sanctuary
Continuing on the theme of nature and family days, Exploris, Northern Ireland's only aquarium, located in Portaferry, offers up a load of fun for the little ones and big ones alike. Consider gifting 'A night at the Aquarium' - an afterhours tour followed by a sumptuous 3 course meal in the Kraken restaurant.
Find out more
Ulster Folk Museum and Ulster Transport Museum
These two fabulous museums, located opposite each other near Holywood, provide two very different experiences. Visitors can explore both or either.
Find out more - Ulster Folk | Ulster Transport
For more ideas of what there is to do in the borough, providing even more inspiration for gifting days out, visit visitardsandnorthdown.com/things-to-do
Foodie favourites
Lay your table with food made from our quality ingredients, fresh from our tide and turf. Or, treat family and friends to vouchers for one of our award-winning restaurants or unique experiences, why not gift a food hamper filled with lots of local goodies and treats?
Restaurant vouchers
Eating out can be a real treat for some, especially when they don't have to pay! Choose from a wide and varied selection of restaurants, many of which are award winning, within the borough; most of whom should offer gift vouchers.
Find a restaurant
Food hampers
Make your own food hamper using local produce from our local markets, producers and deli's.
Distillery experiences
Gin and whiskey lovers will delight in tours and experience days held in our two local distilleries, Copeland Distillery in bustling Donaghadee town and Echlinville Distillery in the heart of Kircubbin countryside.*
Find out more
*For more information on safe alcohol consumption, visit the Drinkaware website.
Food tours
Local tour companies provide a programme during the year including food and drink tours in the borough, giving the opportunity for visitors to get a taste of our quality ingredients from the tide and the turf cooked with passion and care and also a taste for our renowned warm hospitality in Ards and North Down.
Find a tour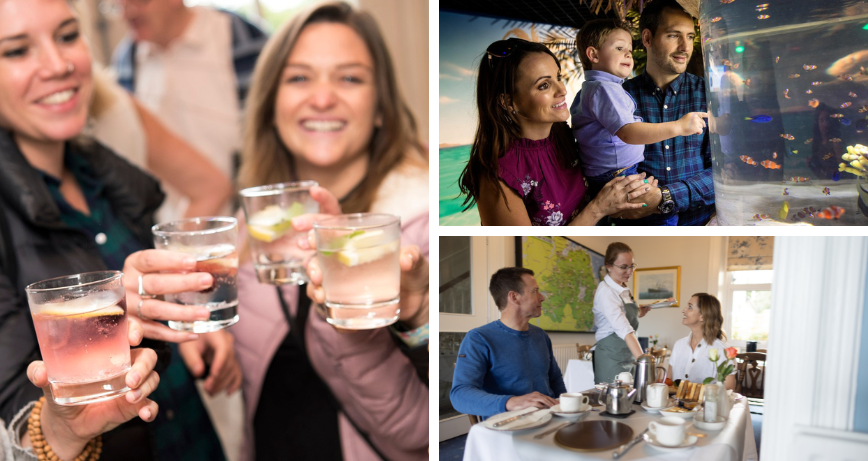 Credit image (Group with drinks, family at Exploris Aquarium): Tourism Northern Ireland
Local artists, makers and producers
Give the gift of buying something unique from one of our talented local artisan makers; supporting passionate people, sharing their personal skill and craft. Shop our upcoming local markets and pop ups shops showcasing our local artists and makers...
Made in AND: Creative Peninsula Christmas Edit Pop-up Shop
Saturday 26 November - Friday 16 December
Georgian Gallery, Ards Arts Centre (Town Hall), Conway Square, Newtownards
Open: Tues-Sat 10am-4pm
Late Night Opening: Thursday 8 and Friday 9 December until 9pm
For a unique shopping experience, join us in the opulent festive setting of the Georgian Gallery, Ards Arts Centre for a Christmas Pop-up Shop exclusively featuring artwork and handcrafted gifts made by the Creative Peninsula Artists. Support your local artists and makers and be inspired to purchase a wonderful handcrafted Christmas gift, made here in the borough of Ards and North Down.
Find out more
Made in AND: Pop-Up Christmas Shop
23 November – 8 January 2023
North Down Museum, Bangor
Come and visit a unique shopping experience this Christmas at North Down Museum! Browse the museum's galleries, filled with beautiful hand-made products from local artists and makers. The perfect place to get that special gift and support your local artists.
The shop is free to explore during our normal hours: Tuesdays – Saturdays 10am-4pm and Sundays 12noon-4pm. Come in, get out of the cold, get a delicious hot coffee or chocolate from our café, Coffee Cure and shop 'til you drop!
Free admission.
Find out more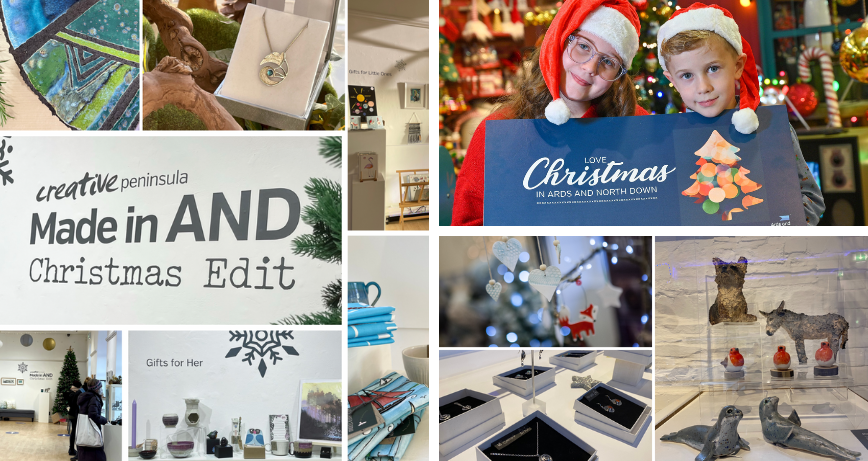 Markets
Bangor weekly market, ASDA carpark
Every Wednesday | 7am-1pm | More info
Newtownards weekly market, Conway Square
Every Saturday | 8am-4pm | More info
The Market on the Square, Portaferry
Saturday 3 December (first Saturday of every month) | 10am-1.30pm | More Info
Market Fresh at Project 24, Queen's Parade on Bangor seafront
Saturday 10 and Sunday 11 December | 12noon-4pm | More info
North Down Craft Collective, Bangor Court House
Sunday 11 December | 11.30am-4.30pm | More info
Comber Farmers Market, St Mary's Church carpark
Christmas Special market, Thursday 15 December 4pm-8pm | More info
And, our very own Visitor Information Centres can be of help finding something unique in the way of experiences and events, as well as being home to gift shops of local handmade gifts of jewellery, textiles and natural beauty products, as well as souvenirs ideal to send to loved ones overseas.
Something a little different...
Ulster Wildlife, a conservation charity whose purpose is to protect and restore nature on land and at sea in Northern Ireland, and who, in partnership with Ards and North Down Borough Council, maintain Balloo Nature Reserve and Balloo Wetland in Bangor, have wonderful Christmas gift ideas, including adopt an animal.
This year Ulster Wildlife is offering a range of nature-friendly Christmas gifts through their online shop, ulsterwildlife.org/shop. In particular, their 2023 Wildlife Calendar is now available, featuring beautiful photography by their very own Nature Reserves Officer, Ronald Surgenor.
The twelve stunning photos showcase our amazing variety of native wildlife – from red squirrels and grey seals to puffins and pine martens – each accompanied by the behind-the-lens story of how Ronald got the shot. The perfect gift for the nature enthusiast in your life.
They are also offering one-year animal adoptions for just £25 for the year, with the option of adopting a hedgehog, red squirrel, barn owl or shark.
The perfect gift for animal lovers, each adoption comes with an awesome adoption pack, plus twice-yearly updates about our conservation work.
All shop profits go to protecting our native wildlife and wild places, with Adopt an Animal proceeds going directly to helping your chosen species. So by choosing a wild gift, you know that you're making a difference for nature.
Find out more
If you have tourism news, festive events, gift ideas and unique experiences for consideration for the Visit Ards and North Down channel. You can share your stories here Share your story and Submit an event.