Newtownards
To start, we head for the northern tip of Strangford Lough, 10 miles east of Belfast in the town of Newtownards. Whether you are local or visiting for the first time, Newtownards has a wide selection of activities to keep everyone entertained. Here are a few popular ideas for unique days out in the area.
To kick off your day we would highly recommend a trek to the top of Scrabo Hill, where you will find Scrabo Tower. The tower, which was built in 1857 is one of Northern Ireland's best-known landmarks and the views from the top are spectacular. Take a moment and enjoy the sights over Strangford Lough and the surrounding countryside.
Next awaken your creative spirit at Ards Art Centre, the beautifully restored Georgian Town Hall in the centre of the town. A welcoming space, supporting community arts activities and two professional galleries – the Georgian Gallery and Sunburst Gallery – come along and explore the rich art here.
Jump in the car and take a trip down the stunning Ards Peninsula. This area separates Strangford Lough (Area of Outstanding Natural Beauty) from the North Channel of the Irish Sea. Why not take the bus to relax and enjoy the views? The Translink Ulsterbus £8 Day Ticket provides unlimited day travel on Ulsterbus Ards Peninsula services, allowing you to visit lots of great local amenities and attractions.
Discover unique towns and picturesque villages, top attractions, and stunning coastal walks. There's so much to cram in you'll have to return to these shores time and time again!
Here are a few suggestions to choose from;
Visit one of the finest Irish Demesnes at National Trust's Mount Stewart, where you can explore the fine 19th Century house enjoy a beautiful walk through wonderful mixed woodland where you might spot red squirrels; and see the award-winning gardens.
Visit Grey Abbey where you can explore the Anglo-Norman Cistercian architecture. It was founded in 1193 by Affreca, wife of John de Courcy, the Anglo-Norman invader of East Ulster. Poor and decayed in the late Middle Ages, the abbey was dissolved in 1541 but in the early 17th century was granted to Sir Hugh Montgomery and the nave was refurbished for parish worship until the late 18th century. The remains, in the beautiful parkland setting of the nearby grand house of Rosemount, consist of the church with cloister and surrounding buildings to the south.
Nearby a visit to The Echlinville Distillery is an opportunity to learn more about the local distilling process in a stunning setting. Find out how local grain is transformed into award winning spirits.
And finally… round off your day with a short drive to Nugent's Wood Portaferry where you can enjoy a walk through the recently refurbished trail. This itinerary offers a unique opportunity to immerse yourself in the stunning water's edge landscapes of this very special part of the world!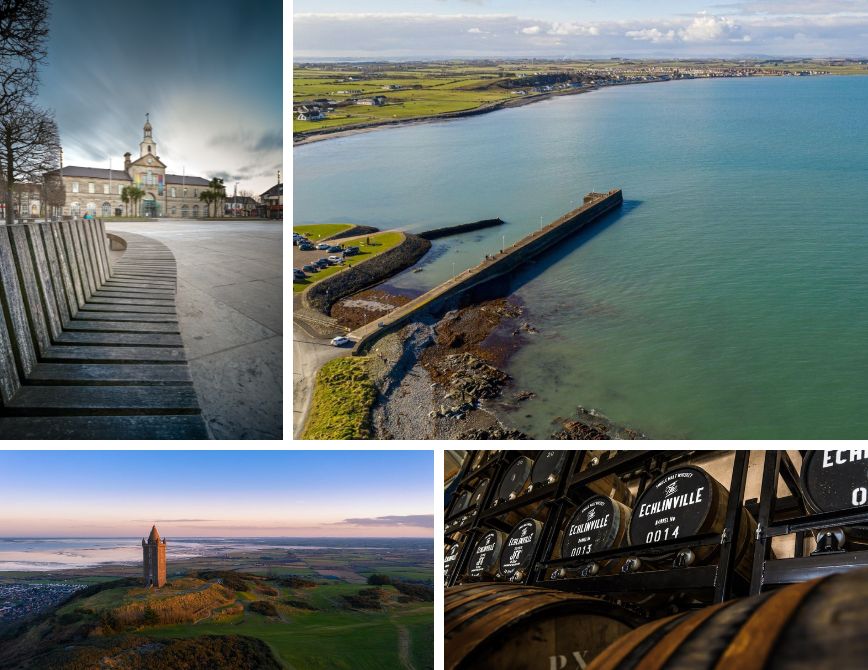 Bangor
Bangor is a seaside resort on Belfast's doorstep and Northern Ireland's newest city (receiving city status as part of Her Majesty Queen Elizabeth II's Jubilee Celebrations). It is easily accessed by train, bus and car. For timetables visit Translink.
Bangor is brimming with places to explore. As well as activities, such as karting, sailing and golfing - for those who like the great outdoors. Here are a few popular ideas for a unique days out here:-
Start your day at North Down Museum (admission free) kids really enjoy the exhibitions and displays, then pick up an Explorers Pack and go minibeast hunting around the adjacent leafy Castle Park grounds. Afterwards, we recommend you take the short stroll from the park to see the beautiful fountain in Bangor Castle Walled Garden, now open all year around.
The award-winning Bangor Castle Walled Garden allows you to explore breath-taking nature that surrounds the gardens. With so many varieties of flowers, plants, fruit, and vegetables, there is plenty to look at.
A fun family day out at the unique Pickie Funpark is a must, being one of Northern Ireland's most popular visitor attractions, there is lots on offer to keep the kiddies entertained. Hopping on the iconic pedal swans is a must for creating the perfect memories with your loved ones!
Why not finish your day trip with a relaxing walk around The Promenade? Breathe in the fresh sea air and enjoy the beautiful sea life and coastal views on offer, then end the day with a frozen treat from one of the local ice cream shops.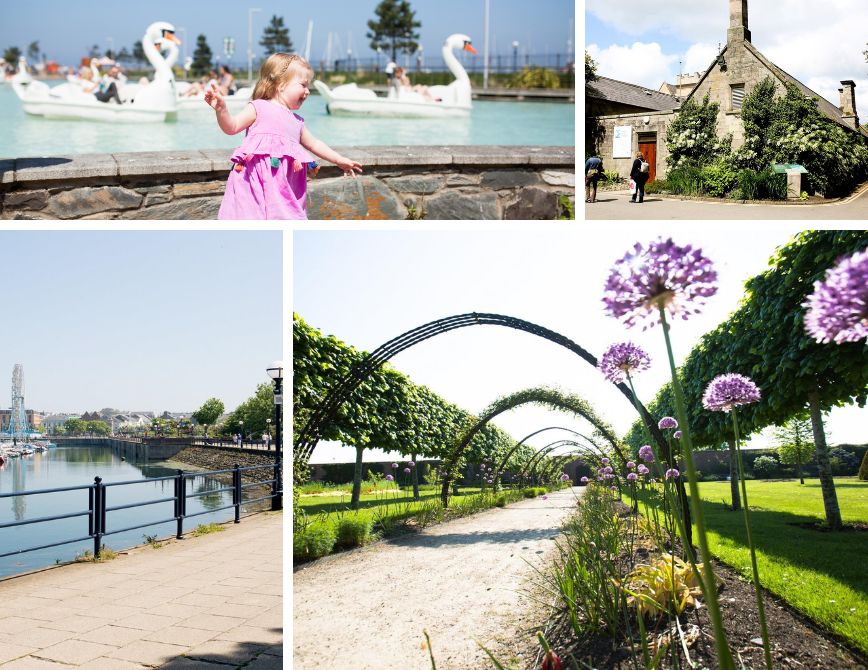 Holywood
The North Down coastal path lines the coast of North Down, leading in both directions; east towards Groomsport, and then west towards Holywood. Along this walk all guests will have the pleasure in indulging in the rich and exhilarating nature to unwind and relax.
Next up, Holywood, which is famous for its maypole in the centre of town, unique shopping offering and wonderful award-winning eateries and thriving coffee culture. Holywood has been named on the 'Sunday Times Best Places to Live Guide' and in The Times, 'Coolest Postcodes in the UK'.
Explore history at the Ulster Folk Museum situated at Cultra near Holywood, one of Europe's most prestigious 'national' open-air museums. Refresh the connection at Ulster Folk Museum, a place where traditions and heritage skills are preserved and celebrated to help shape future generations. The Ulster - Transport Museum at the same site, on the opposite side of the road, has exhibits and exhibitions which tell the story of many Ulster-Scots innovators such as tractor entrepreneur Harry Ferguson and much more!
Adventure and Explore Redburn Country Park. This park is set on a beautiful escarpment above Belfast Lough. There are pathways with spectacular views of Belfast and the south Antrim Hills. Visitors can indulge in the beauty and variety of mixed woodland, the compact distances and ever-changing woodland species making this a wonderful destination to travel on foot. This area is excellent for bird watching, plane spotting and kite flying.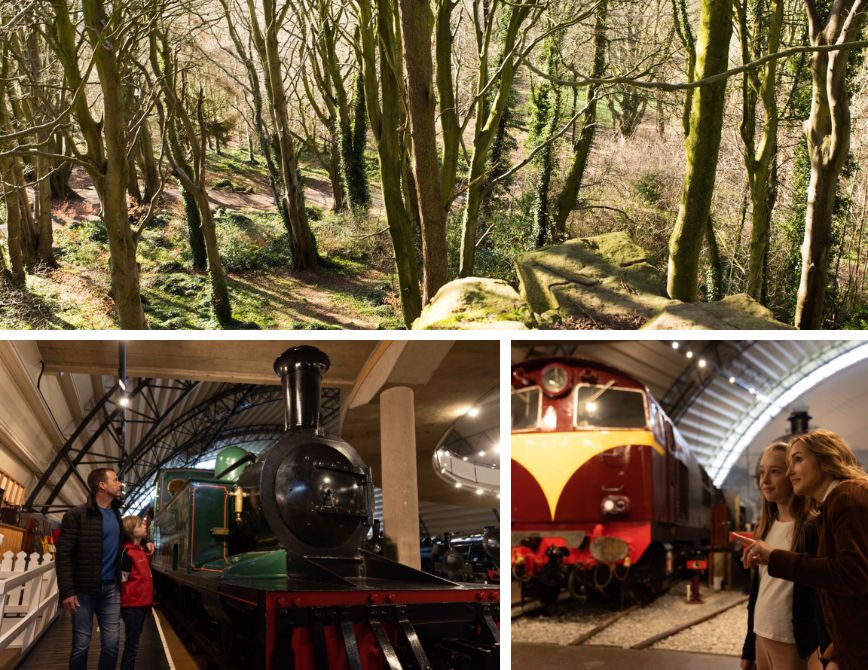 Donaghadee
Donaghadee is located at Northern Ireland's closest point to Scotland and on a clear day the Scottish coast is visible to the naked eye. This picturesque town is a hub with many shops, restaurants and is reputedly home to the oldest pub in Ireland. Here are a few popular ideas for a unique day out in Donaghadee:
Orlock Point managed by the National Trust- offers stunning views of the Copeland Islands and out across the Irish Sea towards Scotland. The area is steeped in archaeology and history, with evidence of Vikings, smugglers, and World War II defences.
Visit the Donaghadee Moat and Camera Obscura, home to the only Camera Obscura in Ireland and The Motte originally constructed by the Anglo-Normans in the late 12th century is one of the largest in Ulster (Note – seasonal opening – check before travelling). It was around 1821 that a picturesque castle was built on top of the Motte and used as a gunpowder store to store explosives during the building of the new harbour. It is a great spot to take in spectacular views across to Scotland.
Back in the town, grab some fish and chips and take a stroll to Donaghadee Lighthouse. The town is known as a foodie hub with an array of fantastic restaurants serving up delicious local fayre.
Why not book a food tour to get a taste of all the culinary delights on offer? Enjoy the craic with local tour guide as you sample what the town is famous for. With a rich maritime heritage this spot is popular with water enthusiasts and those who simply like to be beside the seaside.
Stop by The Copeland Distillery, for a coffee, or book in for a distillery tour, where you can learn all about how their popular gins, rums and whiskeys are created and inspired by local history.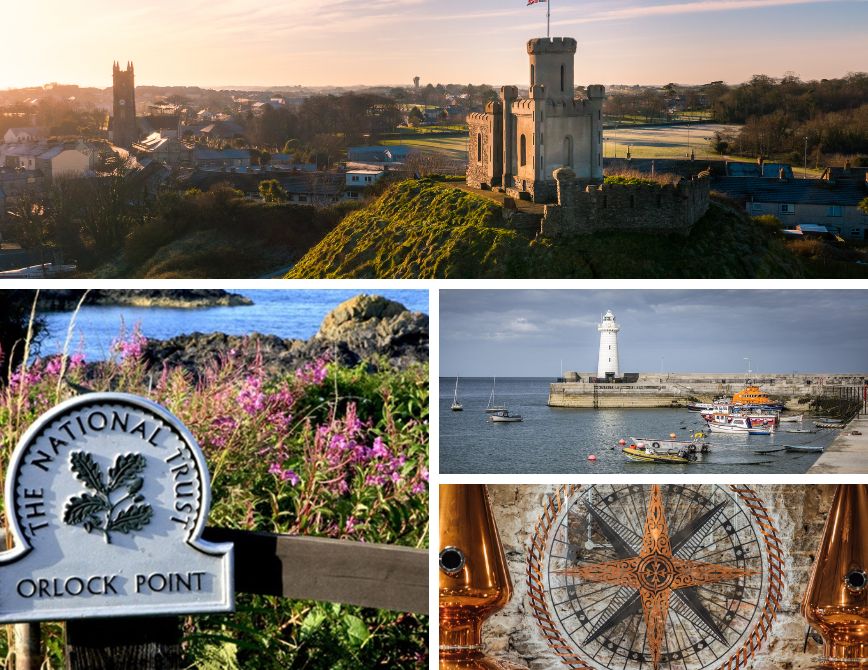 Comber
To the west of the borough, you will discover the buzzing town of Comber, renowned for coffee, cycling, craft and fine cuisine.
Comber is synonymous with the famous ship Titanic, thanks to Thomas Andrews, whose family had been part of life in the town for generations. Thomas Andrews was a naval architect and took over as Chief Designer of Titanic in 1910. He was on board when the ship sank on 15 April 1912 on its maiden voyage. Visit Comber Square to find out more about the Titanic Trail with highlights key sites throughout the town to learn about the fascinating connections with Titanic and The White Star Line.
Comber Farmers' Market is held on the first Thursday of the month from 09:00 - 13:30 in St Mary's Parish Church car park, the Square, Comber. Everyone welcome to come, view and hopefully be tempted by the delights on offer at this award-winning Farmers' Market.
On the outskirts of the town, a perfect family day out is guaranteed at WWT Castle Espie Wetland Centre (currently closed). Set on the shores of the stunning Strangford Lough where almost the entire world's population of Brent Geese resides during the winter months. Three times award-winning WWT Castle Espie is a tranquil and friendly centre for all the family. Hides and nature walks allow you to get close to the wild birds and collection of endangered birds from around the world. A Visitor Centre, Gift shop, Café, picnic area, an indoor soft play area and Wildwood – The Natural Outdoor Woodland play area is a great place for kids to explore.
Another addition to your day out for the entire family…. Nendrum Monastic Site. Nendrum is thought to have been set up by St Machaoi in the 5th Century and has links to St Patrick in later sources. It is thought to be the best example of a pre-Norman monastic site in Northern Ireland, and perfect to learn more about the rich local Christian heritage.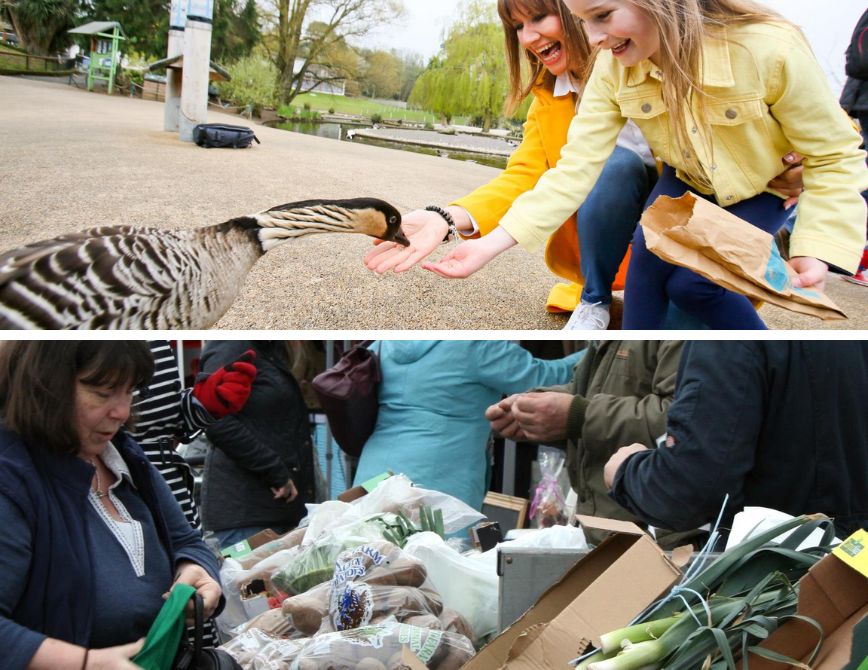 To avoid disappointment, when planning to visit an attraction in the area please continue to check individual provider websites before you leave the house to confirm if they are open, closed or if pre-booking is required.
More things to do
These are just a few ideas for days out in Ards and North Down. Check out our Things to do section and further Blog articles for even more inspiration.
Keep up to date
Sign up to our ezine to hear about short breaks ideas, unique experiences, events and seasonal special offers - Visit Ards and North Down ezine sign up.