In April we launched the Experience Ards and North Down programme, a series of experiences that run annually from Easter to New Year's Day. These experiences offer you the opportunity to immerse yourself in our place, from the natural beauty of our countryside to water's edge encounters, touring our historic towns and charming villages, and sampling our delicious food and drink.
This programme of over 50 experiences is unique to our place. Working closely with local partners this programme showcases Ards and North Down at its best – the landscape, the people, its depth of history and pride of place, and it's pretty wonderful if we do say so ourselves!
We invite you to #DiscoverAND for yourself.

For those looking a little more first-hand insight into some of our experiences, we recently enlisted the help of student ambassadors from the Foundation Degree in Hospitality and Tourism Management in the local South Eastern Regional College (SERC), asking them to choose their adventure with #VisitAND and report back on their experience! Imogen, Lucy and Lea, our enthusiastic ambassadors embraced the challenge and gained a taste of our thriving tourism industry, one they hope to play a role in one day.
Imogen took to the waters at Bangor Marina for the Easter SUP, Lucy released her creative spirit, Weaving with Nature on the Ards Peninsula and Lea joined the Bat Walk at Crawfordsburn Country Park.
This is how they got on….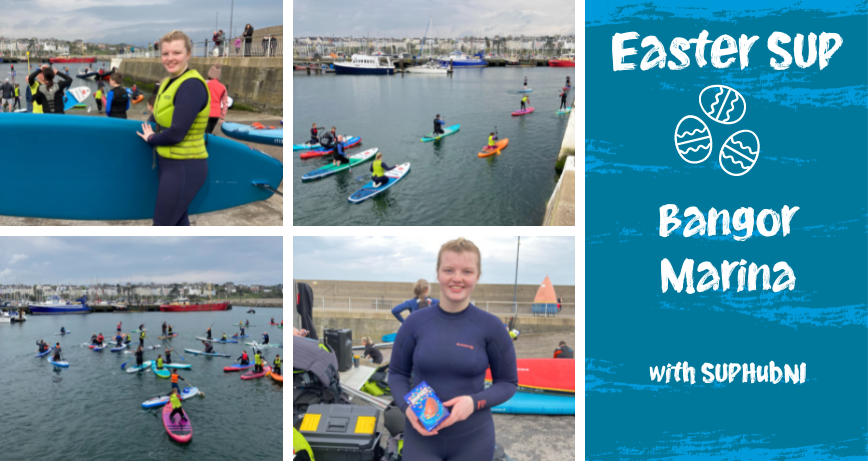 The Easter SUP took place in Bangor Marina on Easter Sunday earlier this year. The experience saw up to 40 people join together for an on-water egg hunt! This fun-filled experience proved a great morning out for all – whether they were beginners or had tried their hand at paddleboarding before, under the expert guidance of SUPHubNI, great craic was assured! Imogen gave paddleboarding a go for this first time ever on this experience…
"Doing the Easter SUP was an amazing experience! There were many people there, different age's, people who were beginners to people with experience, and there where prizes to be won! The time went quick, it was brilliant fun. Everyone was super friendly, and you never felt left out. I would recommend this to friends and families for a great day out. It brings so many people together. And you are in the middle of Bangor, seeing Bangor from a different perspective." Imogen, Easter SUP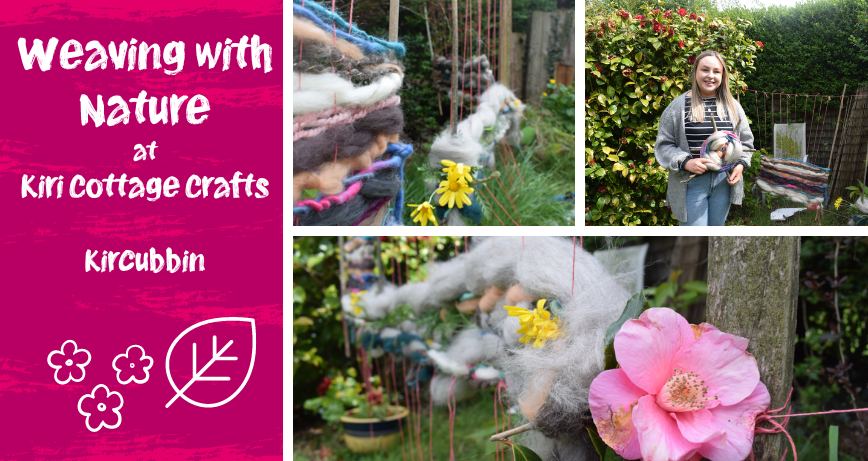 Kiri Cottage Crafts is a unique crafting experience set in Kircubbin down the Ards Peninsula, along the shores of Strangford Lough. Christine who runs the workshops gives people the opportunity to learn new skills, whether it's peg looming, friendship bracelet making or weaving with nature. The experiences aim to create new skills, build on old and bring with them a sense of well-being and mindfulness too during the process. Connect with nature at Kiri Cottage Crafts.
Lucy went along to the Weaving with Nature course this past April and this is what she had to say about her experience…
"I really enjoyed the Weaving with Nature experience at Kiri Cottage. I had never done anything like it, so it was exciting to try something different. Christine was extremely welcoming and provided delicious homemade scones and cake, as well as tea and coffee. We started off with weaving outside, using all natural materials, this was very interesting and fun. I really liked the fact it was outside as it was a beautiful day which made the whole experience more relaxing. We then went on to complete a mandala, which is similar to a dreamcatcher using all natural materials, such as wool and sticks, I really enjoyed using my creativity for this. Christine was an excellent host and had so much knowledge and advice, this is definitely something that I would do again." Lucy, Weaving with Nature at Kiri Cottage Crafts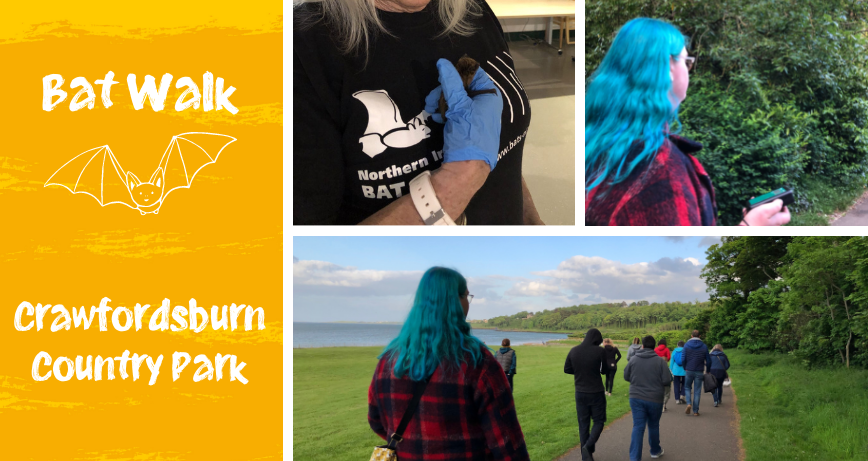 The Bat Walk took place on a May evening in the leafy Crawfordsburn Country Park, led by Bat expert Robin. A group listening intently to Robin's very interesting talk and moved on through the park on the lookout for these precious creatures. This is how Lea found the experience…
"The bat walk and talk in Crawfordsburn Country Park was a very knowledgeable experience. I was met by the guide Robin, from The Northern Ireland Bat Group who welcomed us in and gave a very interesting presentation about the bats that live in Northern Ireland, the laws protecting these bats, as well as bats around the world. After this we were all treated to seeing a rescue bat that Robin looks after, which was a great experience as I had never seen a bat so close before. I could tell that the other participants really enjoyed seeing this. Once the talk was over Robin handed out some Bat Detectors, which are used to allow people to hear the bats as they fly. We then walked around Crawfordsburn in hopes of hearing some bats however we were not successful. Despite this, the whole experience was great fun and it taught me a great deal about a world I knew nothing about." Lea, Bat Walk at Crawfordsburn Country Park

Find out more about our Experience Ards and North Down programme which runs until January 2023.