Stand by for a Sizzling Summer of Events in Portaferry
5th July 2022
Ards and North Down Borough Council is delighted to announce a series of Council sponsored events taking place in Portaferry from July through to September. The collection makes the most of the town's outstanding location, with wonderful landmarks and the beauty of the surrounding waters.

Narrow Series Regatta: 11 to 14 July
This Narrows Series Regatta welcomes over 140 boats to Strangford Lough. The Regatta launches on Monday 11 July with the Bar Buoy Race at the mouth of the lough and over the course of the event, spectators will see 13 classes of boats compete in a number of races.
Look out for Glens, Rivers, FFs, lasers, Dingeys and more! There will be other activities during the event and be sure to pop into 'PAST'; Portaferry and Strangford Trust, which is featuring exhibitions on The Vikings on Strangford Lough and Paddle Boarding.

Portaferry Gala: 16 to 22 July
Portaferry Gala Festival celebrates its Emerald Anniversary this year, running for 55 years.
This 7-day programme has events including the brand-new Bingo Loco, Burger Fest, Taste your Town and Farming Community Day.
New this year will be 'Talk of the Walk', following a map trail around the streets of Portaferry and discovering some street entertainment on the way!

Sails and Sounds Festival: 4 to 7 August
Visitors can enjoy sea kayaking, SUP, Rowing, Ruffian Boats competitions along with environmental talks, crafts, and demos of all things maritime.
Portaferry's heritage will be brought to life through a variety of displays, talks and exhibitions including from the awesome Magnus Viking Experience.
The festival will showcase local food, foraging, live music, dance, Sea Shanty workshops.

Comedy Arts Festival: 16 to 25 September
This comedy event, part funded by Arts Council NI, runs across two weekends between 16 to 25 September and is held in the stunning Portico.
Kicking off the festival on Friday 16 September, is one of Ireland's best loved comics - Neil Delamere of Blame Game fame, followed on Saturday 17 September by true life stories and poetry by the charming and raucous Owen O'Neill.
Earning over 60m fans on YouTube, Rainer Hersch's 'All Classical Music Explained' show on Sunday 18 September, will be a comedic and musical spectacle for all the family!
The following weekend starts on Friday 23 September with a dazzling double bill of stand-up featuring Teresa Livingstone (The Blame Game, Soft Border Patrol, Late Licence) and Diona Doherty (The Blame Game, Derry Girls, What Happens In Ulster…).
Saturday 24 September is all dancing and all singing with the ever-fabulous Motown tribute group The Iconettes and their band The Hitzvilles.
Wrapping up the festival on the afternoon of Sunday 25 September, is a unique performance of silent movie with organ accompaniment. Leicester Square Odeon's organist Donald Mackenzie will play an exciting live improvised score to Buster Keaton's family friendly romantic comedy 'The General.'
For information on all of our funded events: visitardsandnorthdown.com/grantaidedevents
Find out more about Portaferry, the Strangford Lough Ferry and be sure to check out What's On section for events such as The Vikings on Strangford Lough exhibition, more events at The Portico of Ards and Guided walking tours.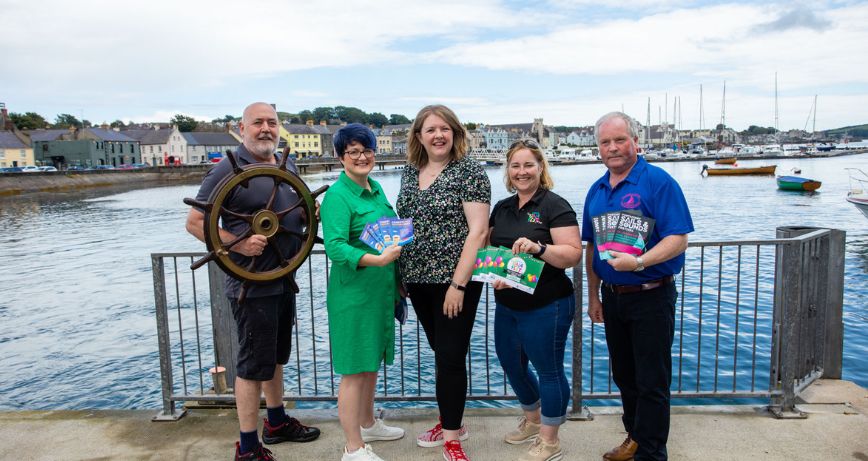 Photo caption (L-R): Portaferry Summer Events Organisers with Events Officer from key sponsor Ards and North Down Borough Council, pictured are Brian Savage, Narrows Series Regatta; Dr Verity Peet, Comedy Arts Festival; Jemma Snell, Events Officer, Ards and North Down Borough Council; Patricia O'Neill, Portaferry Gala; John McAlea, Sails and Sounds.