Creative Peninsula Celebrates Art and Craft in Ards and North Down
30th June 2022
Creative Peninsula, Northern Ireland's largest celebration of Art and Craft was officially launched in Ards and North Down this week. Now in its 21st year, the thriving annual festival brings together local artists and makers to demonstrate their skills and showcase their work.
Ards and North Down is well known for its many artists and makers and during Creative Peninsula visitors have the opportunity to view their work, purchase or commission a unique piece or art or try their hand in a workshop.
Taking place from Thursday 28 July until Sunday 14 August 2022, the festival, organised by Ards and North Down Borough Council, offers opportunities for people of all ages and levels of experience to see, learn about and even 'try their hand' at a host of different art and craft forms practiced in the local area. Featuring, open studios, exhibitions, workshops, demonstrations and more, Creative Peninsula is an ideal way to experience what the local art and craft industries have to offer.
The programme kicks-off with 'Creative Peninsula in the Square' at Conway Square in Newtownards on Friday 5 August. For one day only the space will be transformed into a tented arts and crafts village with artists and makers displaying and selling their work. Free demonstrations including throwing on a potter's wheel, painting, printing and wool spinning will run throughout the day along with live entertainment.
New to the programme for 2022 is Alfresco Art in The Walled Garden, Helen's Bay. On Saturday 13 August, visitors can experience art in the tranquil surroundings of one of the borough's hidden gems where artists and makers will be dotted throughout this beautiful space offering demonstrations and hands-on experiences. This year's festival locations also include; North Down Museum, Ards Arts Centre, Seacourt Print Workshop, Boom! Studios, Loaf Pottery, Comber Pop-Up Shop and Ulster Folk Museum.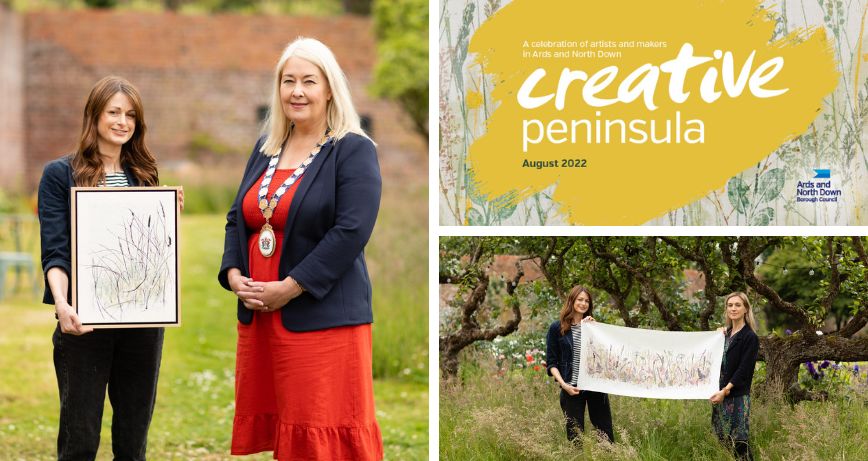 Mayor of Ards and North Down, Councillor Karen Douglas said:
"Over its 21 years, Creative Peninsula has become an incredibly inspirational arts festival attracting people from all over Northern Ireland. Ards and North Down is very fortunate to have one of the largest concentrations of artists and craftspeople living and working here and the area has a thriving creative industry. Creative Peninsula is a fantastic way to showcase these artists and craftspeople and we are delighted to bring this festival to you once again. We would encourage everyone to come along and be part of it."
Arts and Heritage Manager for Ards and North Down Borough Council, Emily Crawford also commented: "We are delighted to return with an eclectic programme of art and craft activity this August as part of an all-Ireland August Craft month. Ards Arts Centre will host visiting works from International artists based in Finland and Wales as part of 'Reflections', an exhibition by the MaP collective of textile artists. I would encourage everyone to explore the creativity on offer on the Creative Peninsula programme."
The 2022 Creative Peninsula brochure is available to download at: creativepeninsula.andculture.org.uk
Tickets for bookable events are also available from this website.
Photo caption 1 (left):
The Mayor of Ards and North Down Councillor Karen Douglas and Artist Ruth Osborne, pictured at the launch of the Creative Peninsula 2022 programme at The Walled Garden, Helen's Bay.
Photo caption 2 (right):
Creative Peninsula artist Ruth Osborne and Emily Crawford, Arts and Heritage Manager with Ards and North Down Borough Council, pictured at the launch of the Creative Peninsula 2022 programme at The Walled Garden, Helen's Bay.