Open House Festival Celebrates Ten Years in Bangor
25th May 2023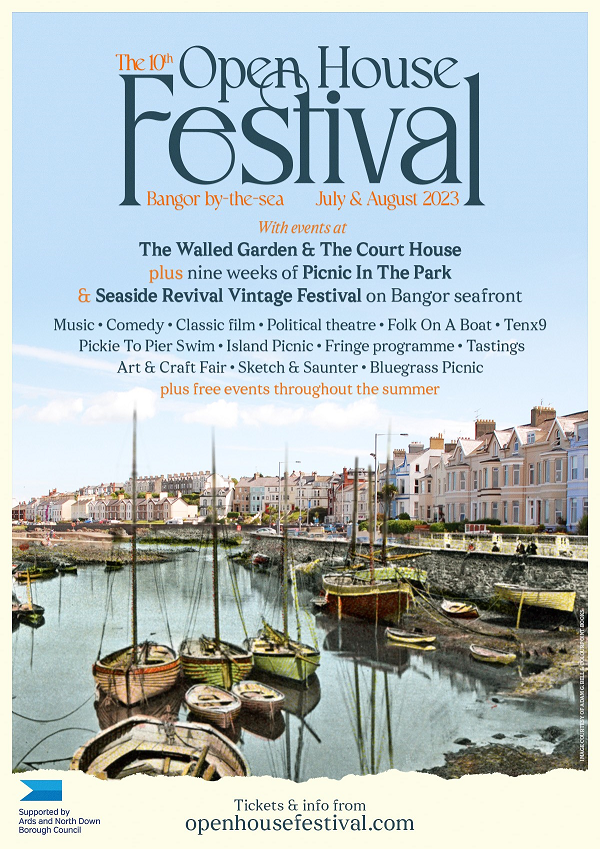 Open House Festival Bangor is celebrating its 10th anniversary this summer with a programme of ticketed events at Bangor Castle Walled Garden during August, plus a series of free events in the city throughout July and August. There will also be a number of fringe events at the charity's recently refurbished music venue, The Court House, on Bangor seafront.
Comedian Micky Bartlett, who performed at the inaugural Open House Festival Bangor back in August 2013, will open the run of Walled Garden events on Wednesday 16th August. Musicians' musician and one-time pop star Nick Lowe, known for his late 1970s hits I love the Sound of Breaking Glass, Cruel to be Kind, and (What's so Funny 'Bout) Peace, Love and Understanding, will perform at the garden on Saturday 26th August. The line-up also features two specially commissioned events: Swordfishtrombone, a celebration of Tom Waits' legendary album featuring performances from Duke Special, Kyron Bourke, Clara Tracey & Mike Mormencha, and a tribute to Northern Irish jazz and blues singer Ottilie Patterson, with three of the country's current leading jazz and blues artists, Dana Masters, Winnie Ama and Siobhan Brown.
Other acts include the acclaimed Van Morrison tribute band Celtic Soul, who have played at the festival to sold out audiences every year since 2013, blues guitar legend Ronnie Greer, who will be making his fourth Open House appearance with his powerhouse blues band, and comedian Shane Todd and Paddy who has become a firm festival favourite.
This year's classic films in the Walled Garden are the 1992 hit The Bodyguard, and The Full Monty, released in 1997. And the film version of Bangor author Colin Bateman's debut novel Divorcing Jack celebrates its 25th anniversary this August with a special screening in The Court House, featuring an introduction from Colin himself.
Free events include Picnic in the Park concerts at Ward Park every Sunday afternoon in July and August. These events have grown in popularity over the years and now attract audiences from Bangor, the rest of North Down, Belfast, and beyond. This year's line-up features the likes of Fleetwood Dreams, The Arms of Venus de Milo, and Dublin based Clash tribute band, El Clash Combo.
Seaside Revival Vintage Festival, a celebration of Bangor's heyday as a thriving seaside resort that was curated by Open House back in 2018, returns to the city's seafront on Saturday 12th August with a full day of free entertainment, including live music, swing dancing, and the annual classic car show. The annual Pickie to Pier swim, resurrected by Open House in 2019 following a thirty-year absence, will take place on Saturday 24th June. Additional events will be announced in due course.
Reflecting on the past ten years, Open House founder and director, Kieran Gilmore, said: "When we brought the festival to Bangor after fourteen years of running events in Belfast's Cathedral Quarter, our objective was, and remains to this day, to help regenerate the town we lived in and loved through arts and culture. We truly didn't know what to expect, but we instinctively sensed the time was right.
"In our very first programme," he continues, "I wrote the words: 'There is a sea change in the air in Bangor, with a new sense of optimism and a general view that art and culture will play a key role in the future regeneration of the town. We hope that this festival will help in some small way, by showing that Bangor town centre can host international acts, and that the town has a wealth of world class artists of its own just waiting to be championed.'
"Well, a lot has changed since then. Bangor is of course now a city. The cultural renaissance that we championed is thriving, with a host of talented musicians, artists and writers emerging from this small place in the past decade, including The Florentinas, who are poised for international recognition. The regeneration of Queen's Parade is finally about to begin, and the Bangor Waterfront Development project is in the planning phase: both of which will bring increased creative and cultural opportunities for the city. And we now have a dedicated arts and music venue in The Court House."
In the past decade, Open House Festival has staged just under 1,000 events in Bangor (a third of which were free) to a combined audience of 306,500, and has injected an estimated £12m into the city's economy. It has firmly put Bangor on the map as a go-to cultural destination – both for audiences and artists. Acclaimed acts who have performed at the festival in the past ten years include The Waterboys, John Lydon and Pil, the late great Terry Hall and The Specials, Villagers, Martha Wainright, Joan Armatrading, Sir Michael Parkinson, and Gary Lightbody and Snow Patrol who performed on Bangor seafront last summer. The festival has also nurtured and supported thousands of artists, performers, crew, and technicians from across Northern Ireland.
"This year's line-up has a more home-grown focus," said Kieran, "with some incredibly talented and highly acclaimed Northern Irish performers - which we believe is the best way to celebrate ten years of doing our thing in Bangor."
The organisation has encountered some tough times during the last decade too, including the cancellation of the 2020 festival due to the pandemic, and ongoing public funding cuts to the creative sector.
"It has been difficult at times," said Open House development director, Alison Gordon. "Covid changed the course of the festival and we had to adapt to a different landscape afterwards. And the current funding crisis has obviously proven to be immensely challenging. Ards and North Down Borough Council have supported us from the start, for which we are enormously grateful. And the support we receive from our audiences and the general public has grown and flourished year by year. In 2013 barely anyone in Bangor had heard about Open House. Today it would be difficult to live in the city and surrounding areas and not know about it. There is still a lot of work to do, and we are always planning for the future, but for now we want to focus on having a wonderful summer and a successful tenth anniversary festival."
Mayor of Ards and North Down, Councillor Karen Douglas, congratulated Open House on their 10th Anniversary in Bangor and said: "It has been a pleasure for Ards and North Down Borough Council to fund, support and work with Open House over the past decade. Kieran and Alison have always had a very clear vision for the cultural regeneration they wanted to see in their hometown and they have been passionate and innovative in how they have delivered upon it; inspiring lots of individual residents and business to come on the journey with them as volunteers and partners. They have truly breathed new life into Bangor and, as active supporters of our bid for City Status and all that this can unlock for area, really are doing everything possible to put their home city firmly on the map.
"It's a very fitting tribute to the work Open House has done that, in this special 10th Anniversary year, the Festival is able to programme so much superb home grown talent. I have no doubt tickets will go fast and Bangor will really be buzzing over the summer months with so many and varied events on offer."
Tickets for the Walled Garden events go on sale today, Thursday 25th May, with more events to be announced in the coming weeks. To buy tickets and view the full programme go to: openhousefestival.com.