Dolphins herald the new season at Portico!
5th April 2023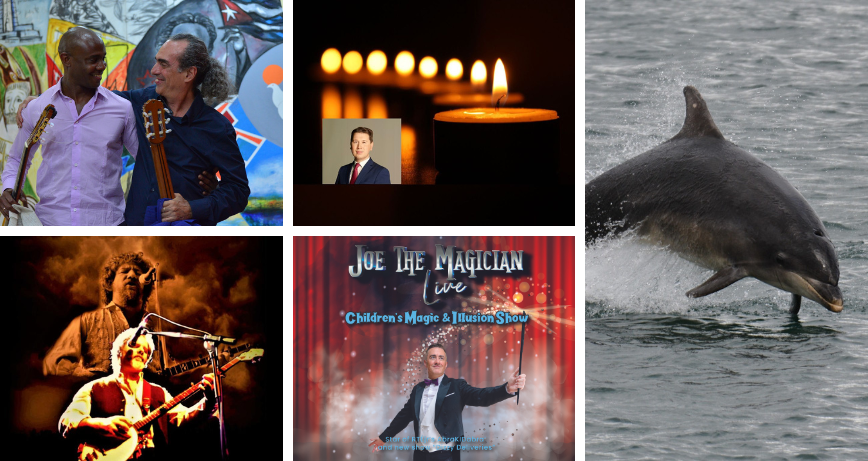 Dolphins kindly answered the call to help Portico Arts and Heritage Centre promote its programme to a wider audience this week. A pair of wine bottle nose dolphins have spent several days making appearances in Strangford Lough. While the rollicking frolicking may seem like playful behaviour to the uninitiated, Professor Gluck of the Institute for Dolphinalia identified the key messages in their display with impressive clarity. Astoundinglingly, the dolphins are actually using DSL to sign a marketing message from the Portico of Ards regarding its new season programme.
April's programme includes the annual Tenebrae Service on Good Friday at 7pm with narration from UTV's Paul Reilly and The Newquay Singers performing Faure's Requiem. Everyone is welcome - any belief or none. Easter Monday brings magic for kids of all ages with Joe Daly of RTE Junior bringing his amazing magic show at 3pm.
On Sunday 16 April at 3pm, Cuban guitar maestros Ahmed Dickinson Cardenas and grammy-nominated Eduardo Martin combine forces to deliver their lively mix of classical, flamenco and jazz.
A Glamourous Night With Ivor Novello and Friends on Sat 22 April offers a unique opportunity to hear classics from the 'golden age' of music theatre, including We'll Gather Lilacs and My Dearest Dear with soprano Ali Darragh, tenor Caolan Keaveney and pianist Matthew Owens.
April events conclude with The Legend of Luke Kelly presented by David Hull Promotions. Created and performed by the renowned Chris Kavanagh, the show is not a tribute but a journey through Luke's music celebrating the memory and music of a true Irish Musical Legend.
Portico is supported by the Arts Council of Northern Ireland and Ards and North Down Borough Council and further information on all the events can be found at porticoards.com