Ultimate Strongman competitor Dale Winters prepares for 4 Nations Championships in Bangor
13th March 2023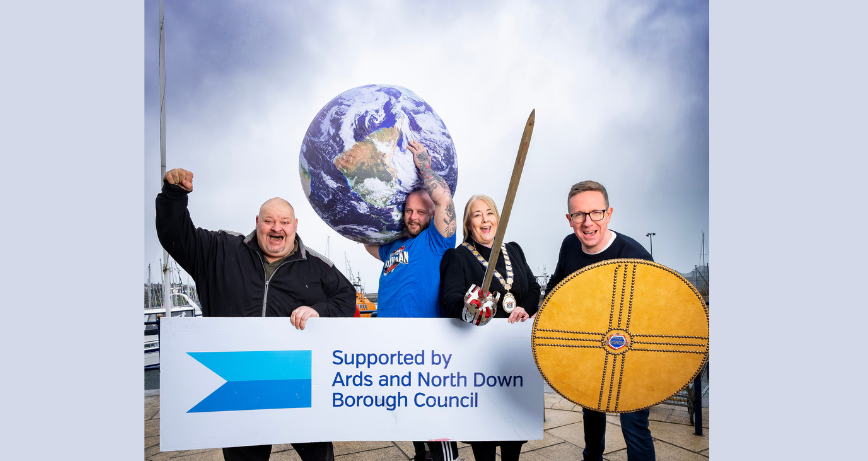 Inspired by the Our Place in Space sculpture trail, Ultimate Strongman competitor Dale Winters prepares for 4 Nations Championships in Bangor by giving the world a lift!
Taking place at the McKee Clock Arena on 18 March, the Ultimate Strongman Competition's 4 Nations Championships will see some of the UK and Ireland's leading strongmen and women compete using cars, trucks and the legendary stones of strength. The competition takes place in the centre of Bangor near to Pluto at the end of the Our Place in Space sculpture trail, a recreation of our solar system as an 11.8 sculpture trail starting at the Ulster Transport Museum and running along the North Down Coastal Path. Specially commissioned space characters will roam through the Strongman event which, along with Our Place in Space, are both free to visit next Saturday.
For more information visit ourplaceinspace.earth or visitardsandnorthdown.com.
Photo caption: (l-r) 4 Nations Championships organiser Glenn Ross is joined by Strongman competitor Dale Winters, Mayor of Ards and North Down, Councillor Karen Douglas and Niall Kerr, Our Place in Space.
Photo credit: Brian Morrison Photography