Royal Seal of Approval on new City of Bangor
5th December 2022
The Princess Royal officially conferred city status on Bangor today in a ceremony at Bangor Castle attended by local business leaders, community representatives and just some of the many organisations that make the new city such a special place.
Many residents, including children from nearby Bangor Central Integrated Primary School and students from Bangor Academy, Bangor Grammar, Glenlola, St Columbanus and SERC, came to the Castle to welcome the Princess and to mark the historic occasion. The local Sea Cadets provided a 'guard of honour' and representatives from the Coastguard and RNLI were honoured to meet the Princess Royal.
Bangor's City Status was granted as part of Queen Elizabeth II's Platinum Jubilee Celebrations in June. The Princess today unveiled the 'Letters Patent', the legal instrument issued by King Charles III to formally confirm the status of 'City' to the former town.
The Princess offered her congratulations to Bangor and to all who had contributed to the award of city status. She then met with some of the local organisations who had supported the bid, including Bangor Marine, the developers of Queen's Parade; Open House Festival, who have recently opened a new music venue in Bangor's former Court House; members of the Chamber of Commerce; representatives from local statutory and voluntary agencies and a number of those involved in the flourishing arts and culture scene in Bangor.
Mayor of Ards and North Down, Councillor Karen Douglas, accompanied the Princess during the visit and commented: "It is my absolute pleasure to mark this very historic event for the town and people of Bangor. I am the Mayor for the whole of our Borough but I am a Bangor resident, which makes my involvement today all the more special. I couldn't be prouder that my home 'town' has been honoured with this distinction; and I will do all I can to make sure that we build positively on it as we work together to shape a bright new chapter for the new City of Bangor."
Secretary of State for Northern Ireland, Chris Heaton-Harris MP, attend the event and said: "I was delighted to participate in today's civic reception, in the presence of Her Royal Highness The Princess Royal, to formally mark Bangor's new city status. I would like to congratulate Ards and North Down Borough Council for their successful application, ensuring a lasting legacy for Northern Ireland as part of this year's Platinum Jubilee celebrations for Queen Elizabeth II.
"Bangor's city status will provide a further boost to tourism and to the economy, creating new opportunities for investment and growth, benefitting the local community and providing much recognition for the area."
During the visit Bangor Lady's Choir, the first Ambassadors for the City of Bangor, sang for the Princess. Local jewellers, Robinson Goldsmith, presented her with the gift of a Platinum pendant.
Local politicians, business people and community representatives have offered their congratulations on the accolade.
Stephen Farry MP said: "I am delighted to see the formal conferment of City Status on Bangor. This is a special and select honour for Bangor. It will forever be especially poignant coming in the year of the passing of Queen Elizabeth II. Bangor has an extensive and diverse history, a vibrant present alongside an exciting future. City status will help Bangor to better capitalise on its future potential."
Geoff Thompson, President of Bangor's Chamber of Commerce said: "We are greatly honoured by today's Royal visit and the formal presentation of our City Status. This award is a fantastic tribute to the many people who live and work in Bangor and presents a real opportunity to raise Bangor's profile as we take forward a number of exciting new regeneration projects in the city centre."
Alison Blayney, BEM, Kilcooley Women's Centre, commented: "Being awarded City Status is a special and historic moment for Bangor and the people who live and work here. We look forward to working together with the many partners who are committed to building community and prosperity in our new city to maximise this wonderful accolade".
City status is a very special civic honour and provides a platform to recognise and celebrate the many exciting plans in place for Bangor. The city has been positioning itself to secure dual investments totalling over £124M, that will enable it to embark on its most ambitious regeneration journey for many years. These are the Bangor Waterfront Regeneration Scheme, which is part of the Belfast Region City Deal and will be delivered over the next 10 years, and the Queen's Parade Redevelopment, which will see extensive improvements to the seafront area including new homes, a hotel, offices, events space and cafés/restaurants. Formal planning approval for Queen's Parade was agreed in September 2021 and the developers aim to be on site in Summer/Autumn of 2022.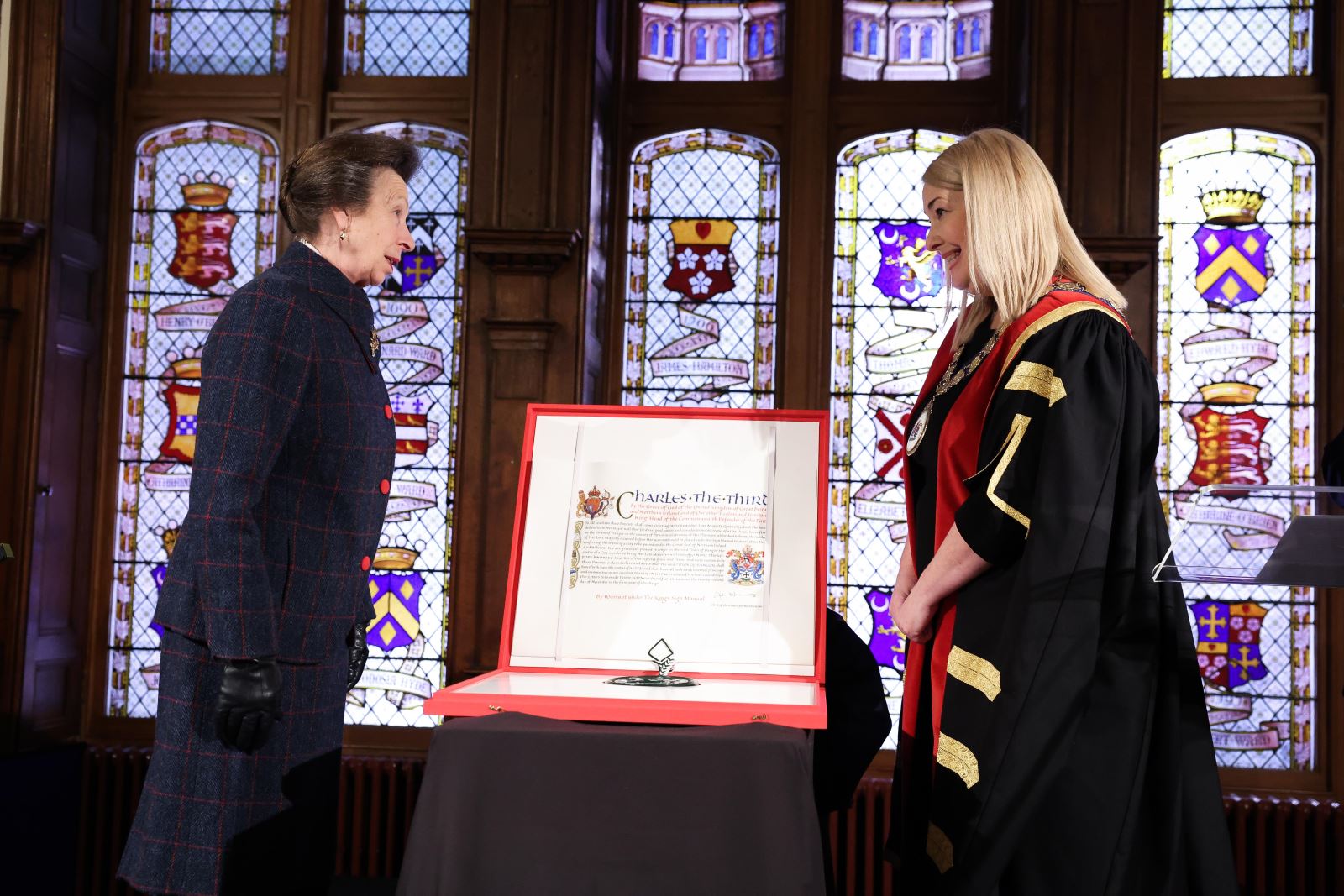 Photo caption: Princess Anne and the Mayor of Ards and North Down, Councillor Karen Douglas, unveil the 'Letters Patent', the legal instrument issued by King Charles III to formally confirm the status of 'City' to the former town.