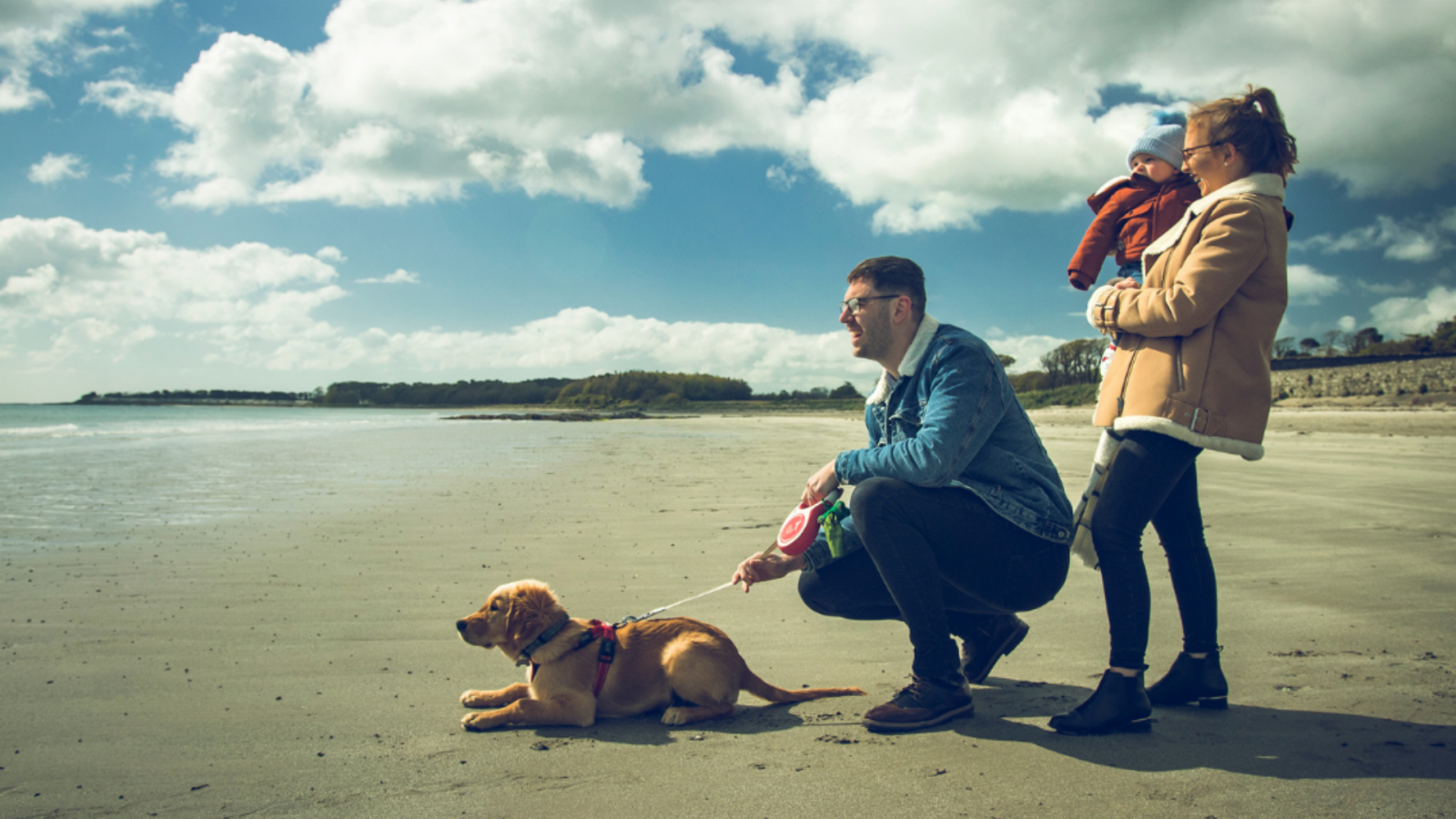 Copyright: Dog friendly places in Northern Ireland county-by-county by Jilly Beattie Full article can be found at Belfast Live website
There's a seaside battle underway in Northern Ireland and there's only going to be one winner - the nation's dog lovers.
Our affection for dogs appears to have expanded across lockdown as first time owners took the plunge and discovered what life's like with a dog in the family, adding their numbers to those already established doggie households.
It was estimated last year there were around half a million pet dogs in about 350,000 homes here and that number has now increased substantially.
And for locals, day visitors and holiday makers, adding a dog to the equation creates a new dimension to socialising.
Two counties, and in particular two coastal towns, are well ahead of the game and eager to claim first prize as the most dog friendly place in the country.
Portrush in Co Antrim with its fabulous beaches and quirky cafes led the way for many years, but today nipping at its heels is Donaghadee in Co Down where every bar/restaurant except one welcomes dogs, the cafes are finding a way too and even the Gordon's chemist in the town is open access to owners and their pets.
With Belfast now boasting a burgeoning positive pooch vibe, many are heading to the city centre, but those who want beach and countryside fun are looking further afield for places where all the family will be welcome.
Ards and North Down dog friendly places as highlighed within the article.
Salty Dog Hotel and Bistro, 10-12 Seacliff Rd, Bangor: The perfect combination of dog friendly bar and hotel overlooking Bangor Bay with good separation from non-dog loving customers. Always doggie treats, a bowl of water and a good ear scratch available from staff. Great for beach combers after a dry off. Dedicated rooms for dog owners.
Hop House: 44 High St, Bangor
Wild Thing, 4a High St, Donaghadee: excellent coffee, cracking sweet and savoury treats and plenty of craic amid the coolest surroundings
Grace Neill's, 33 High St, Donaghadee: Said to be the oldest pub in Ireland. A warm welcome in the front bar with lots of atmosphere and plenty of craic
The North Down House, 103 Mill St, Comber
The Wildfowler Inn, 1 Main St, Greyabbey: All stone floor with good area for dogs at the rear and friendly staff.
Teddy's, 1 Castle St, Bangor: A lovely welcome awaits especially for waggy tails.
Harbour & Co, 31 The Parade, Donaghadee - Ground floor bar and restaurant are a great spot for people and pooches. Great food and happy staff.
Lighthouse Bar and Grill, 27 The Parade, Donaghadee: These guys LOVE dogs and are well prepared for yours. Treat galore and lots of cuddles.
Pier 36: 36 The Parade, Donaghadee : Very friendly welcome in this bar/ restaurant situated right on the quayside of one of the most picturesque harbours on the coast. Dogs allowed in front bar and outside, covered area.
The Copeland Distillery, 43 Manor St, Donaghadee: Coffee and killer donuts with a view into the world of gin distilling.
Eden Pottery/Café: 218 Abbey Rd, Millisle : Very dog friendly, this is an access all areas café with a beautiful pottery. The bottom shelves have been cleared so tails can wag freely. The bottom shelves have been cleared for wagging tails at Eden Pottery
Anchorage Bistro: 2 Sullivan Place, Holywood : Top nosh and a great spot for calm pooches in the bar area of the restaurant where the full food menu is available. Access to beer garden too. They say: "Absolutely no refusal to people with well behaved dogs."
Stokers Halt, 27 Hibernia St, Holywood
Esplanade Bar and Restaurant: 12 Ballyholme Esplanade: boasts a beautiful bespoke interior for posh pooches in the back bar. The front terrace is also open to pets with stunning views of the lough.
Loaf Pottery and Coffee Shop, 24 Main St, Crawfordsburn: Good people, good food and fine things.. a real treasure
Trait Coffee,33 Castle St, Comber
The Cafe: Hoops Courtyard, 7 - 9 Main St, Greyabbey
Del Pieros, 1 Francis Street, Newtownards
Petal Power, 64 High St, Newtownards - If you are looking for a florist and a cafe that serves fabulous soup and is pet friendly, look no further. Resident Great Dane.
Caffè Nero: Newtownards
Caffè Nero: Bangor
Camphill Cafe, 8 Shore Rd, Holywood: Vegetarian and vegan restaurant and coffee shop. Relaxed and friendly
Maybe you know of some more in the area, contact us via marketing@ardsandnorthdown.gov.uk and be added to the list.
As always, be aware of what current local COVID-19 restrictions are in place and please follow public health guidance. For information visit, nidirect and the Public Health Agency website.
To avoid disappointment, when planning to visit an attraction in the area please continue to check individual provider websites before you leave the house to confirm if they are open, closed or if pre-booking is required.